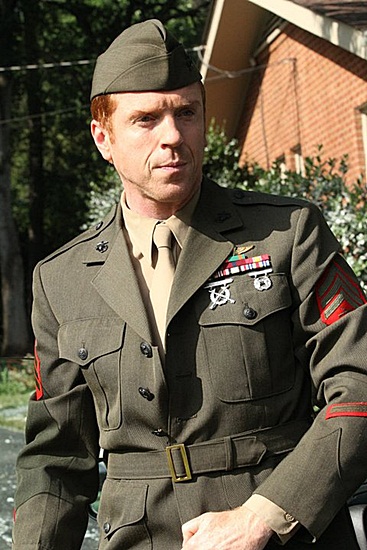 Question: I'm wondering if there's anything you can tell us about the new Showtime series Homeland. I just watched the pilot and I think its the best new show I've seen in a while. –Charley

Ausiello: You have very good taste, Charley. I'm three episodes in and it's by far my favorite new drama of the fall. It mixes the thrilling conspiracy-fueled intrigue of 24 with the methodically paced suspense of The Killing. And the performances are stunning. Claire Danes is sensational as a mentally unstable CIA agent — a character I'm pretty sure will turn out to be the love child of Jack Bauer and Nurse Jackie. The real revelation, however, is V's Morena Baccarin as the deeply conflicted wife of a suspected terrorist (played by the also fantastic Damian Lewis). It's hard to believe this is the same actress who last season devoured a 14-inch white rat.
Television Blog:
These questions make this show compelling, along with Danes' and Lewis' performances.

Danes skillfully makes her character's good intentions in keeping the U.S. safe completely clear while also displaying Carrie's manic side.

Lewis is equally good in his portrayal of Brody, reacting to situations in ways you'd think a POW would react in most ways, but always seeming to be hiding

something.

Morena Baccarin, who plays Brody's wife Jessica, and Mandy Patinkin, who plays Carrie's mentor and boss Saul Berenson, offer solid support in a show that is

both provocative and intense.
Homeland, which premieres after Dexter at 10, is your absolute must watch this week. The show stars Claire Danes as a CIA agent who suspects that a prisoner

of war (played by Damian Lewis), rescued after seven years, may in fact be a sleeper agent. She begins a covert investigation of him, although Danes

character may not be as reliable as she seems. The premiere, which can be found online thanks to New York Magazine, is an exceptionally smart and engaging

hour of television. If any of you put yourself through Rubicon like me, and if you did I am truly sorry for you, this show is everything Rubicon wanted to

be. Smart, topical, fascinating, well-written and well-acted, this show is the best new show I have seen this season. I highly highly recommend tuning in, or

at least watching the premiere online.
The sergeant, terrifically played by Damian Lewis, is a walking time bomb, though not necessarily in the way Mathison thinks. After eight years of torture,

he's a bundle of post-traumatic stress harboring more than a secret or two.

Nor is Mathison quite what she seems. Gulping illicit pills, sneaking off to bars, spying with the zeal of a stalker, Mathison has a hidden life just as

surely as the man she believes to be a terrorist. Is her theory a plausible deduction or a paranoid delusion?

"Homeland" keeps us guessing, dolling out revelations that prompt shifts in our allegiances and send chills up our backs. The cast is excellent, from Danes,

Lewis and Mandy Patinkin (as Mathison's mentor) to Morena Baccarin as the sergeant's wife with a secret of her own.
Other articles and reviews:
Slant Magazine – Homeland: Season One Review
NYTimes.com – Fighting Threats to Mind and Country