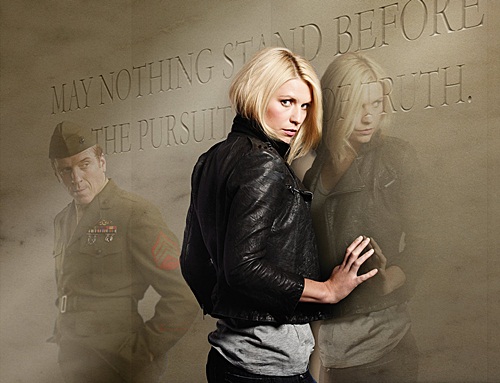 On the heels of HOMELAND's biggest numbers yet, for this past Sunday's airing, SHOWTIME has ordered a season two, consisting of 12 new one-hour episodes. The announcement was made today by David Nevins, President of Entertainment, Showtime Networks Inc. Developed for American television by executive producers Howard Gordon and Alex Gansa, HOMELAND stars Emmy(R) Award winner Claire Danes, Golden Globe(R) nominee Damian Lewis and Emmy and Tony(R) Award winner Mandy Patinkin. HOMELAND debuted as the network's highest-rated freshman drama series ever, generating 4.4 million viewers across platforms in its first week. The series has continued to increase overall viewership since its premiere, with its most recent episode delivering the series' best ratings to-date this past Sunday. Season two will begin production in spring 2012.

"HOMELAND is just getting started," said Nevins. "Clearly, the overall audience growth from week one to week four demonstrates that this show is hitting a nerve in the cultural zeitgeist. Alex and Howard have created a psychological thriller that holds special relevance in the post 9/11 world. I'm quite confident that its passionate audience will be riveted as the season unfolds and people discover where this story is going."

The countless accolades for HOMELAND keep coming as the show gets deeper into its debut season. Newsweek calls HOMELAND "the most addictive show of the season." The New York Times notes "Homeland is well made and gripping… impossible to resist" and TV Guide says "Hands-down the best new drama on TV." USA Today raves "Stands out as the season's best new drama." "Grade: A" says The Boston Globe. The LA Times relays "It's the first telling of a post-9/11 story that is all the things it should be: politically resonant, emotionally wrenching and plain old thrilling to watch."

HOMELAND is a one-hour drama series that tells the story of Carrie Mathison (Claire Danes), a CIA officer battling her own demons, who becomes convinced that the intelligence that led to the rescue of Nicholas Brody (Damian Lewis), a U.S. soldier who had been missing and presumed dead for eight years, was a setup and may be connected to an Al Qaeda plot to be carried out on American soil. The series also stars Morena Baccarin, David Harewood, Diego Klattenhoff, Morgan Saylor and Jackson Pace. HOMELAND is based on the original Israeli series "Prisoners of War," by Gideon Raff. Along with Gordon and Gansa, the executive producers for season one are Avi Nir, Ran Telem, Gideon Raff and Michael Cuesta. The series is produced by FOX 21.
Read the full press release at TVbytheNumbers.
Read more on the show's renewal:
The Hollywood Reporter – Showtime Renews 'Homeland' for Second Season
Variety – Showtime renews 'Homeland'
News14.com – Charlotte-set 'Homeland' renewed for second season (includes behind-the-scenes video, no Damian.)