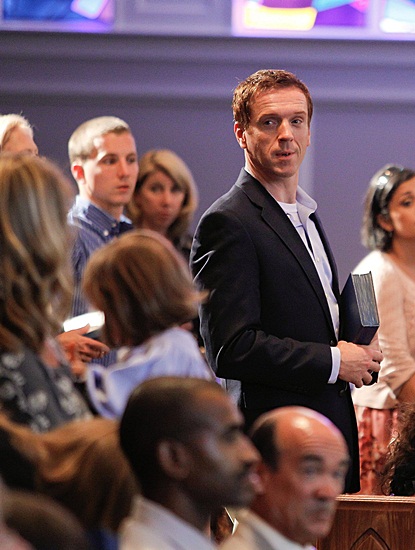 THE premise is intriguing. A United States marine, missing in action for eight years and presumed dead, is rescued from a terrorist compound. He has been held hostage by al-Qaeda for all that time.

Marine Sergeant Nicholas Brody returns to the US initially as a hero. Yet it quickly becomes clear life has changed. His wife has been sleeping with his best friend; his children barely know him; and a CIA operations officer is convinced he has returned home converted to the ways of al-Qaeda.

Based on Israeli show Hatufim, the riveting Homeland is comfortably the year's best-credentialled new American series.

The returning soldier is played by British actor Damian Lewis; the CIA officer so obsessed by him that she fills his home with Big Brother-style cameras to monitor his activities by Claire Danes; and her mentor by veteran actor Mandy Patinkin.

For the London-based Lewis, Homeland marks a return to American television after the demise of Life, a critically adored but ratings-challenged cop show set in Los Angeles.

Although it made it to a second season, Life was criminally underrated by viewers. The show focused on Charlie Crews, an LA detective framed for his friend's family's murder and sentenced to life in prison. He was released after 12 years and set about finding who entrapped him.

At the time, it stood out in the American network landscape. It was smart, thoughtful, well-written and looked terrific, capturing a side of LA rarely portrayed on TV.

Lewis describes the show as something of a bittersweet experience. "I'm very sad Life wasn't a big hit," he says. "But it was undone by politics at NBC. It was intense. I moved my wife and we had two children back to back. So working those hours and living abroad in LA was a handful. But it was a great experience. I keep bumping into people who say they loved it and refer to it being an unusual, quirky and slightly more sophisticated cop show."

After Life was cancelled, Lewis returned to England and reassessed his work-life balance.

"It's not a good quality of life working on a TV show 75 hours a week, even though the work is hugely satisfying and [financially] rewarding," he says. "If I didn't have to work in the relentless network TV schedule again, I wouldn't."

Yet here he is sitting in a trailer in North Carolina, a long way from home. There was, he insists, a caveat to his previous declaration.
Read the full interview at smh.com.au.