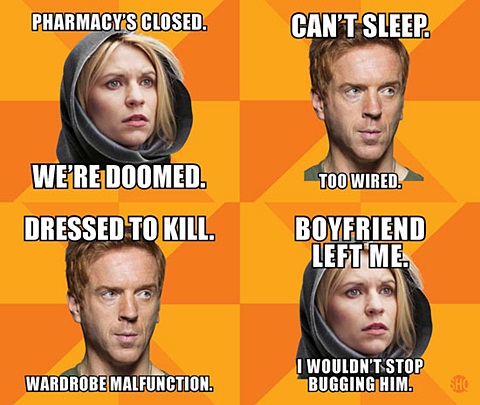 Showtime's marketing department is having a real blast for this month's Comic-Con materials.

To promote the upcoming second season of its returning series, including Homeland, the premium cable network is issuing a series of Internet-style memes poking fun at its characters and story lines under its "When You Get It, You Get It" campaign.

In addition to appearing on official Comic-Con shuttle busses the memes featuring Claire Danes and Damian Lewis will appear on lobby banners, buttons and bags alongside other witty campaigns for Dexter, House of Lies, Episodes and Shameless.

Exec producers Howard Gordon and Alex Gansa will premiere Homeland's Season 2 trailer at Comic-Con ahead of Showtime's Dexter panel on Thursday, July 12 at 7 p.m. in Ballroom 20.

The network will also panel Emmy Rossum starrer Shameless on Saturday, July 14 from 4-5 p.m. at the San Diego Bayfront's Indigo Ballroom.

Check out more of the Homeland memes, exclusive to The Hollywood Reporter, below, and hit the comments with your thoughts on the campaign.

Homeland's second season returns Sept. 30 on Showtime.
Source: The Hollywood Reporter