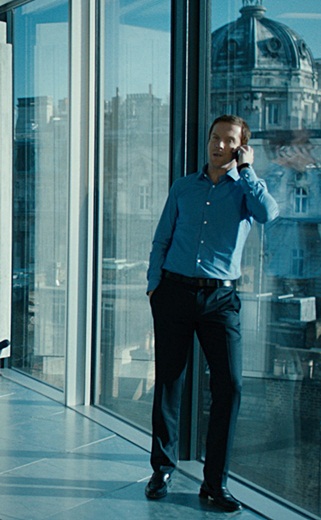 Note: The Sweeney has its London premiere on September 3rd at the Vue West End and Ray Winstone, Plan B, Damian Lewis & Hayley Atwell are expected to attend.
FRESH from the US hit Homeland, which won him fans in high places, Damian Lewis is relishing his role in a great British classic set on his home turf

DAMIAN Lewis is 42, smart, and a bit roguish, and while he has never been enamoured of Hollywood and never chased it hard, even after getting the lead in Band of Brothers, he is currently hotter than steam after torturing audiences with the quietly terrifying TV show Homeland. Obama invites him to dinner and the Clintons are big fans too. Yet this month you'll find him in cinemas behind a desk, as a by-the-book penpusher in The Sweeney, remonstrating with Ray Winstone for his thuggish police tactics and grumbling about paperwork. It's like getting Mo Farah to do an egg and spoon race. "I don't even get to drive a fast car," he agrees, cheerfully.

Thanks to ITV4, surely no one can forget Regan, Carter and the original Sweeney, with its spirit of drink, violence and dysfunction muscularly embodied by John Thaw and Dennis Waterman. For three years in the 1970s, their Ford Granada raced across London's derelict and utterly untrendy docklands, chasing birds and nicking villains.

Almost four decades on, the new UK movie has turbo-charged the flying squad; the force is now based in a steel-and-chrome skyscraper, eschew "plain" clothes policework for snazzier threads, and have sex in the City's hotels, rather than under floral nylon bedspreads in north London. For 2012, Regan and Carter have been recast as Ray Winstone and the rapper Plan B – or Ben Drew, as his mother calls him – while Lewis has a supporting role as Frank Haskins, their long-suffering boss.

Back in the mid-1970s, Haskins was paunchy, balding Garfield Morgan, gulping milk to ease an ulcer inflamed by both Regan and Haskins' unseen missus, who was forever ringing in to give him grief about some marital faux pas. Lewis had met Morgan a few times at a theatre golfing club ("an august bunch of pissheads") before his death, but warns that the new Haskins is a changed man. "I'm not a man in his 60s for a start, but I don't think they quite knew what to do with my character. I'm the most boring character in the whole film. I kept saying to the director 'It's all very well, and you can put me in as many nice suits as you like – I'm still strutting around the desks," he mockingly complains.

"But I was there for a week and it was a right laugh. I'd met Ray once at Ascot quite a few years ago, where we drank a lot of champagne, which is the way you should meet Ray. And last year you couldn't put on the radio without hearing Ben's album, so I had fun, and making a film in London doesn't happen often now."

The film also leaves the door open for a sequel and the promise of more action for Lewis next time, so maybe he'll get to use one of the more famous Sweeney phrases notably missing from the current film. "Shuddit it, you slaaag," offers Lewis amiably.
Read the full interview at Scotland.com.