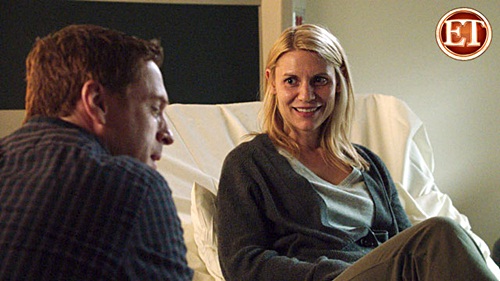 The first season of Homeland ended on a shocking moment, as fallen C.I.A. agent Carrie Mathison (Claire Danes) underwent her first course of shock therapy in a quest to quell her bipolar tendencies. Ones that were exponentially aggravated by her hunt for the truth regarding the loyalty of recently recovered P.O.W. Nicholas Brody (Damian Lewis).

And while you'll have to wait until the season two premiere, September 30 at 9 p.m. on Showtime, to see how their intertwined story plays out, ETonline has an exclusive deleted scene off the upcoming season one DVD (in stores August 28), revealing a reunion that didn't make it into season one.

Taking place after Carrie's first round of therapy, Brody visits her in the hospital and you can tell she has no memory of the "Ah-ha Moment" that occurred to her just before shock therapy began.

The deleted scene is just one of the special features available on the Homeland: The Complete First Season DVD set. In addition to deleted scenes, there is a season two prologue called The Visit and a making of featurette, titled Under Surveillance. Something Agent Brody knows about all too well!
Source: ETOnline