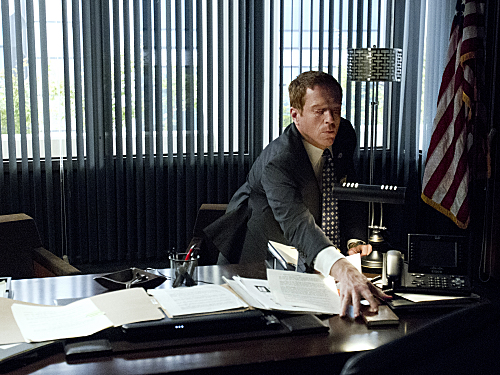 CHARLOTTE, N.C. — In a well-manicured park on a balmy North Carolina morning, Nicholas Brody is losing his cool.

The American POW-turned-terrorist from the Showtime series "Homeland," played by Damian Lewis, is meeting with a representative of archterrorist Abu Nazir. With each take, Brody's resentment toward the shadowy forces manipulating him creeps upward.

"And who are 'THEY' anyway?" Lewis spits, his head trembling with anger. At one point, the disgust has become so palpable that the actor himself seems to feel it: He lets go a quick but loud admonition to an assistant director who has been talking during takes. The moment will later prompt the crew to discuss (among themselves) the infamous Christian Bale episode on the set of "Terminator Salvation."

Lewis has a resolute focus on set — in a shoot that afternoon he'll pilot a rigged SUV through downtown traffic while offering a nuanced performance — that embodies the show's fiery spirit. Though "Homeland" is an entertaining thriller, it's still deadly serious; while a hit (nearly 2 million viewers tuned in to the Season 1 finale in December), it also asks meaningful political and moral questions.

As it kicks off its second season Sept. 23, the series about weighty subjects like war, secrecy and loyalty has more juice than perhaps any other returning drama. But as a visit to the set suggests, creating a show that's both cerebral and fun isn't easy.

And it won't get any easier this go-round, when the series must sustain tension even though the central mystery of Brody's allegiance has been revealed. Indeed, much of the show's appeal the first season came from a pedal-to-metal series of cliffhangers. The writers aim for that this year too but with a counter-intuitive approach.

"Our first narrative priority this season is to throttle down," said show runner Alex Gansa, who executive produces the show with former "24" show runner Howard Gordon. "We can't start the season at such a heightened rate that it reaches an insane level by Episode 4 or 5."

Building a series around a mentally unstable CIA agent was always going to be risky, even in the wide-leeway world of cable television. Centering it on an American soldier who is planning the unthinkable was downright lunatic. Perhaps only "Breaking Bad" would turn someone so problematic into a main character, and even Walt White never plotted to bring down the U.S. government on behalf of Islamofascism.
Read the full article at the LA Times.