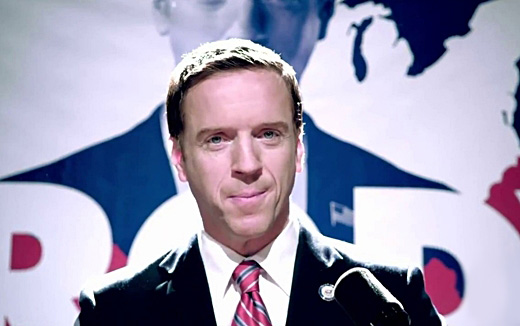 On Sunday night at the Emmy Awards, Showtime's geopolitical thriller "Homeland," which returns for its second season on Sept. 30, will vie to end the four-year reign of "Mad Men" as television's top drama. Damian Lewis, who stars as the P.O.W.-turned-plotter-turned-politician Nicholas Brody, was also nominated for best actor in a drama.

A decade before he was Brody, Mr. Lewis was Soames Forsyte, the priggish Victorian businessman at the heart of "The Forsyte Saga." In 2002 the mini-series, based on books by John Galsworthy, was a hit for ITV in Britain and "Masterpiece Theater" on PBS. Mr. Lewis's Soames is still featured in that series's title sequence.

We talked to Mr. Lewis for an article looking back on "Forsyte," which Acorn Media recently released on DVD. But the actor, who in conversation is as wry as Brody is tightly wound, also discussed fake tans, first fans and the new season of "Homeland." These are edited excerpts from the conversation.

Q. You're shooting the second season of "Homeland" [in Charlotte, N.C.]. Does it feel any different now that it is an acclaimed show as opposed to unknown?
A. Yes I think people feel a certain pressure. Coming back you're much more of a fish in a big goldfish bowl with people staring at you. I think we all feel a pressure to keep people as exhilarated as they were in the first season. So it is different. But as you guys like to say here, it's a high-class problem. I'm not losing any sleep over it.

Q. So all this success isn't wearing you down.
A. It is [laughs]. It's been remarkable what happened to this show — I've been in hits and successes before, but I don't think I've ever been in something in which within days of the second episode, everyone was going, 'Oh my God, you have to watch this show.'

Q. How is your brief different this season?
A. Well, last season Brody was the guy who might commit some sort of terrorist act and people stuck around to see what he was going to do. Now having changed his mission statement and having said he wants to use nonviolent means to achieve his political ends, Brody is like a crook trying to go straight. He's trying to subvert from within. But what I think you'll see this year is he's not master of his own destiny — he's too exposed to too many people and they can pull the strings pretty much as they want. So Brody will live in a state of extreme high anxiety and paranoia and uncertainty. I think you'll really see just to what extent that he is a victim of his war, a victim of his circumstances.

Q. What has been the biggest change in shooting the second time around?
A. We've got new characters in the C.I.A.; we've got a new character on my side of the storm. I won't tell you who because it would ruin the plot for you. Charlotte's still hot — nothing's changed there.
Read the full interview at the NYTimes.com website.