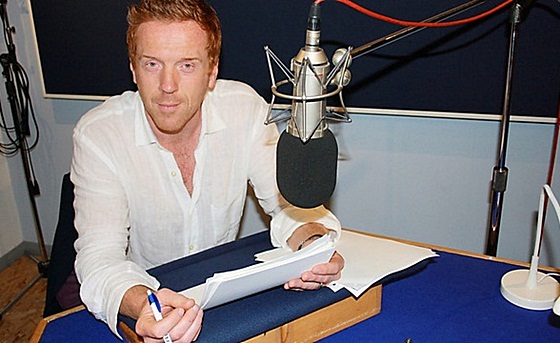 The 10-part Book at Bedtime series A Delicate Truth will begin broadcast this week Monday-Friday from 10:45-11:00pm on BBC Radio 4. John le Carre's novel "about a good man who must choose between his conscience and his duty to the Service" is read by Damian Lewis. The episodes will be made available to listen to at the BBC website for 7 days after broadcast. We'll try to upload the series to the Media archive. Update: Downloads are now available at the Media Archive.
'It would be so brilliant if I was actually a spy!" Damian Lewis is in a basement somewhere under Soho. There's a new le Carré out and when Radio 4's Book at Bedtime was casting around for a reader, who else could they turn to but the Emmy-winning star of Homeland? "My front as an actor," he adds, "is going really well."

It really is. Lewis was by no means the first to be cast as a spy, but more than any actor apart from Daniel Craig, he is now indissolubly linked with espionage. It seems to have infiltrated his manner of interacting with the world. "We're being monitored in a bunker," he says, as a BBC publicist sits down to listen in.

We edge into a discussion of le Carré's A Delicate Truth, the abridgement of which Lewis has just spent three days recording. The story, he advises, "has a terrific opening which happens in a little bit of British soil somewhere else not in Great Britain". As in Gibraltar? The plot précis is all over the media, I tell him. "Gib," he confirms, tersely.

Lewis came to le Carré through boys' own tales. "My first recollection was sun-stained copies of Smiley's People and The Spy Who Came In From the Cold at home. I flicked through them as a follow-on from Fleming and Franklin W Dixon's The Hardy Boys and Desmond Bagley, Alistair MacLean and Willard Price. I really had not had anything to do with him for about 20 years and then, doing Homeland, it was clear there were many similarities, so I've just been dipping in and out on the loo."

Is the actor who plays the war hero who would be US vice-president sure that he wants to reveal where his reading takes place? "I don't see why not. Whether David Cornwell [le Carré's real name] will be happy with people thumbing his texts while in the throne room I'm not sure."
Source: Telegraph
Here's a short review from the Radio Times.