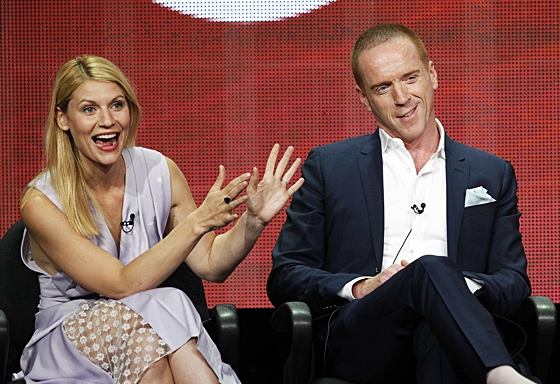 Gallery Link:
2013/07/29 Showtime's 2013 Summer TCA Panel
The biggest thing we can spoil about Season 3 of "Homeland" is something that doesn't happen in the first two episodes.

Ready? You've been warned.

Season 2 ended with Carrie Matheson (Claire Danes) helping Nicholas Brody (Damian Lewis) escape to Canada after a bomb in his car blew up CIA headquarters. The producers said at a Television Critics Association panel Monday that it's okay to tell you where that leaves the show in Season 3, so here we go.

Brody is still AWOL for the first two episodes. That means Lewis, who won a best dramatic actor Emmy for his first season on the show, is missing from the show. His presence is strongly felt — by Carrie, by his family, and especially his daughter Dana, and by an intelligence community on a global manhunt.

Don't worry. He'll be back.

"He's disappeard into a tunnel and exfiltration system that Carrie has effected," Lewis said. "He is the most-wanted criminal in the world at this point. … Is he hidden away or is he lost? I hope that when you do see Brody for the first time it will be interesting."

When will that be? No one's saying. He may be around for the third episode. He may not.

Carrie misses Brody badly. So does Danes. (There's another small spoiler ahead, but you've gone this far, so…)

"I miss my acting buddies, because Carrie's been in isolation for a good chunk of this season," said Danes, who is partway through filming the season. "And it's only now that she's started to team up with the more familiar characters."

The show, which also won Emmys for best drama and for Danes, is nominated again in the key categories for its second season. Some critics said the season strained credibility at times. So the show can only guess how viewers will respond to one of its two leads disappearing for a while.

"The decision to not have Brody in the first two episodes was strictly a function of the story," said executive producer Alex Gansa. "Whether there's a backlash or not is completely beyond our control."

Lewis said he realizes the show could end his run at any time — and that Showtime and the studio that produces the show, Fox 21, keep insisting his character stays alive.

"These guys have been trying to kill me since the end of episode 1," he said.
Source: The Wrap TV
More TCA press highlights:
HuffPost – 'Homeland' Season 3 News: Cast And Producers Talk Carrie, Brody And Saul At TCA 2013
TVLine – Homeland Season 3: The CIA Under Fire, Saul's Betrayal and Brody's Top-Secret Return
IGN – Homeland: What to Expect From Season 3