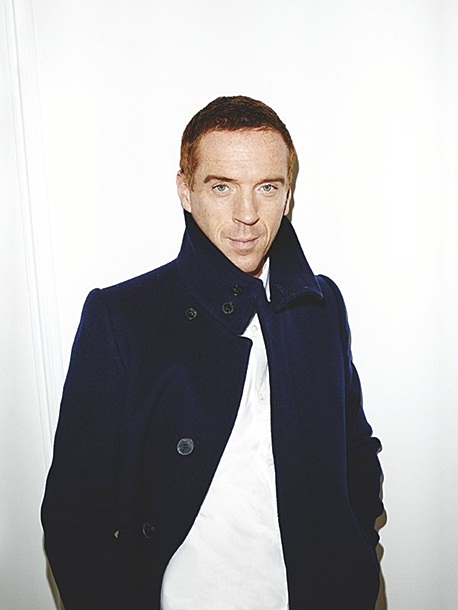 Gallery Link:
For five months of the year, Damian Lewis lives in Charlotte, North Carolina, where his hit TV series Homeland is filmed and where, after taking a break between seasons, he goes through the same acclimatisation routine. "The first week you think: I may never go home, this is amazing. The second week, you think: right, now I can get over my jet lag, this is really good fun. And then, after the second week, it's a disaster. I have kids and a wife; you spend a lot of the time quite homesick."

He is at home in London, gearing up for last weekend's UK launch of Homeland season three, which has some ground to make up after a disappointing second season. Lewis is at the zenith of his fame, ebullient with success and exposure, and throwing out an energetic charm that rests, one imagines, on a firm faith in his own likability. ("Where is your dress from?" he asks. And, later, exhibiting high-level surveillance skills that feel, as in Homeland, mildly operational: "You bite your fingernails, but not all of them.")

He is in a jacket and tie, and has come straight from tea at the Ritz with a couple of bankers who won him in a charity auction. It's an odd sort of duty, but two years into his post-Homeland celebrity, the 42-year-old is getting used to it, as well as to furtive stares in public places. (Sergeant Brody or no, a 6ft 1in redhead is hard to miss.) "I think we're OK," he says, sliding into his seat at a restaurant in Piccadilly, while a ripple of recognition moves through the room.

The problem with Homeland season two was that, after a solid start, it rapidly descended into a series of Houdini-like escape scenes and ludicrous strands of coincidence. The show's premise – CIA operatives battle terrorist sleeper cells on US soil – suddenly looked absurd. "Yeah, I'm aware of the criticisms," Lewis says. "People feel betrayed. It's like football matches. There's a sense of betrayal if it doesn't live up to expectation. We gave all our time to this shit." He grins. "People get irate."
Read the full interview at The Guardian.