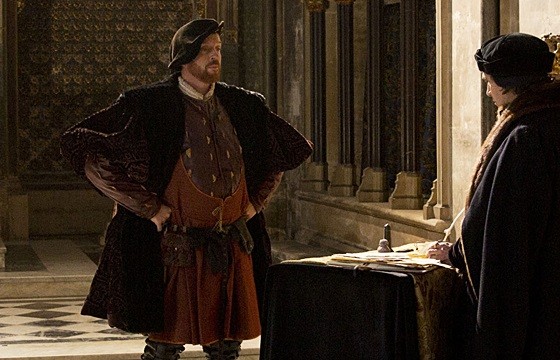 This lavish BBC adaptation of Hilary Mantel's novels, which starts on Wednesday, brings a fascinating, dangerous world to the screen, says Serena Davies
The landscape of great TV drama has transformed in the past decade. Once the highest quality was considered almost the preserve of British literary adaptations – I, Claudius, Brideshead Revisited, Andrew Davies's 1995 Pride and Prejudice. But the ascendancy of the American multi-season epics such as The Wire and Mad Men has seen the focus of plaudits shift to the other side of the Atlantic.
Wolf Hall, although filmed with a lavishness that required both UK and US funding, represents a brief but sweet return to what Britain does best. It's an adaptation of a literary phenomenon, a double header of Booker-prize winning books, Wolf Hall and its sequel Bring Up the Bodies, that meant their author Hilary Mantel became the first woman to win the award twice. It focuses on a moment in history – Henry VIII's break from Rome – pivotal to our island story. And it stars Mark Rylance, probably Britain's greatest living actor, as Mantel's mysterious protagonist and advisor to the king, Thomas Cromwell. The Tudors it is not.
The first episode proceeds at a stately pace as it introduces us to Cromwell, his family and his close relationship with his patron Cardinal Wolsey (Jonathan Pryce). Director Peter Kosminksy uses close-ups, hand-held cameras, and a constant visual intimacy with Cromwell to bring viewers right into the shadowy halls and corridors he inhabits. We don't even see the king until the final minutes of the hour.
Kosminsky is working with a masterful script from Peter Straughan. It takes no prisoners intellectually; it is lucid but it is intricate. "Wolsey burns Bibles," says a character at one point; "[Thomas] More will burn men," warns Cromwell in response – at a stroke we are told the religious stances of these two huge figures; but at the same time are asked to grapple with the complex nature of Catholic resistance to the Reformation.
Straughan's words are brought to life by Rylance, steely yet vulnerable, and mesmerically still; a marvellously humane Pryce; and a mercurial and charismatic Damian Lewis as Henry VIII.
Interestingly both this television adaptation and the recent acclaimed RSC stage version take around six hours to tell Mantel's two stories, yet the plays seemed in a rush, mining their fast-shifting historical tableaux for jokes, rendering Wolsey a buffoon. Faith appeared put on, something exploited for political leverage or personal gain.
In contrast, the TV version is subtle, and takes belief more seriously. One scene near the end of the first episode highlights this. Cromwell has suffered a terrible bereavement. He tells Wolsey the news in a single bald sentence. Wolsey stops short and addresses him for the only time by his Christian name, "Oh Tom," he says, his restless eyes stilled by sadness. And then, "whom the Lord loveth". He quotes half a proverb. "For whom the Lord loveth he chasteneth" is the longer version – God sends trials to those he loves. He wouldn't have needed to complete the proverb for Cromwell, nor does Straughan for us. But what does seem complete is Wolsey's faith in his God. A wrenching scene conveyed in the shortest of exchanges.
This drama won't have enormous audience figures. Kosminsky and Straughan ask that viewers absorb themselves in detail; have a grasp of history. But it fully communicates the nerve-jangling sense of bodily threat with which Mantel's novels are freighted – life is cheap in a disease-ridden Tudor England ruled by an absolute monarch – and it offers us the chance to bring that fascinating, dangerous world into our living rooms. Pay attention: this is TV worth watching.
Wolf Hall begins on Wednesday 21st January on BBC Two at 9.00pm
Source: The Telegraph
See Also:
BBC Radio 4 – Saturday Review (Wolf Hall review starts at 18:15)