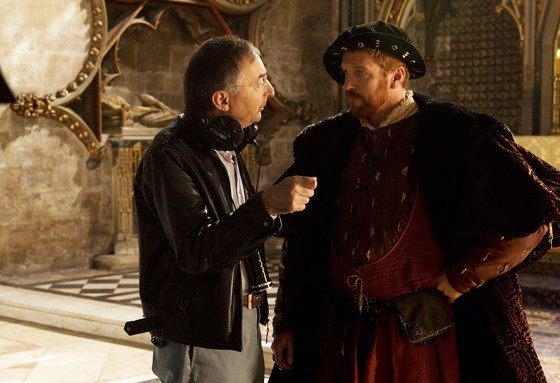 THE Homeland star plays King Henry VIII in Wolf Hall, a gripping new BBC drama that reassesses the role of one of history's arch-villains, Thomas Cromwell
Packed with intrigue, sex, scandal, royals and seismic change, the tumultuous tale of how King Henry VIII broke with the Catholic Church in order to marry his second wife, Anne Boleyn, is one of the most thrilling in our history.
It's no surprise that the story has been rendered on film and television dozens of times and its cast of characters are as well known to us as the Mitchells on EastEnders.
But this week we'll hear a different spin on the tale. BBC1's lavish new drama Wolf Hall tells this chunk of English history solely from the viewpoint of Henry's ruthless right-hand man, Thomas Cromwell.
It's based on Hilary Mantel's 2009 Booker Prize-winning historical novel of the same name, in which she controversially recast Cromwell not as the arch-villain of history but as a sympathetic, suave and brilliant fixer to the king whose actions are understandable even when they are incredibly brutal.
Acclaimed theatre star Mark Rylance tackles the role of Cromwell, with Damian Lewis as the capricious Henry VIII and Little Dorrit's Claire Foy as ambitious queen-to-be Anne Boleyn.
In the first episode we meet Cromwell as a happily married father of three before he goes to work for Henry VIII. As legal secretary to Cardinal Wolsey (Jonathan Pryce), the former Lord Chancellor, Cromwell is trying to get his beleaguered master restored to the King's good favour. Wolsey has been cast out after failing to get the Pope to agree to annul his marriage to Catherine of Aragon.
Henry wants to marry Anne and produce a male heir – Henry and Catherine's only surviving child is Mary, later Queen (or Bloody) Mary. Also, tragedy strikes the Cromwell household as a fatal epidemic claims the lives of his wife, Elizabeth, and two young daughters.
Rylance, best known for his 1995-2005 stint as artistic director of London's Globe Theatre, says he was drawn to the part after his wife, musical director and composer Claire van Kampen, praised the books to him. "I like stories where people change," he says. "And this character changes a lot."
History records Cromwell as a low-born runaway who rose through the ranks with cunning and breathtaking ruthlessness, and whose life was tinged with sorrow. "Personal tragedy in his life gives him a certain kind of recklessness, or nihilism, about his own fate," says Mark, 54. "He's not particularly attached to anything or anyone. He knows everything can be lost at any moment."
Mark sides with Hilary Mantel's revised version of Cromwell in claiming that he did not relish sending many to their deaths, most famously Thomas More, and Anne Boleyn, both on trumped-up charges. "But like a hired protector, he knows that if he doesn't do it, someone else will," explains Mark.
Damian Lewis plays Cromwell's master, the weak, much-married king usually depicted as a bloated womaniser. In the period covered by the drama, the 1530s, however, Henry was still a svelte man with a more humane side to him, explains Homeland star Damian, 43. "What we're trying to concentrate on a bit is just to give a more varied portrait of Henry," he explains. "When we see him there's great variety in his character and his personality. You might see him composing something on the lute, or in a very boyish way dreaming about Jane Seymour."
But Henry the heartless megalomaniac is about to emerge. "His ability to love and then to simply discard is sociopathic," says Damian. "That is very damaging to one's personality over a period of time, which is why I think he became increasingly paranoid, self-indulgent, grandiose and cruel in the last 10 years of his life."
Anne Boleyn paid the price of Henry's cruelty by failing to provide him with a male heir – their only child was Elizabeth, later Elizabeth I. Actress Claire Foy struggled to research Anne. "It was difficult because there is no hard evidence or first-hand account of what she was like," explains Claire, 30.
Moreover, in Wolf Hall, Anne is only seen through Cromwell's eyes – as imperious, wilful and cunning. "So it was my job to figure out the other side of Anne that you don't see," continues Claire. "Like when she is in a scene having a hissy fit, understanding why that might be, as opposed to thinking she is this mad woman.
"I feel incredible compassion towards her because she missed out on people really being able to know her," says Claire. "It would be amazing to read her letters, or her diaries, and there's only one letter available to see that she wrote to Henry."
What helped Claire flesh out the character was donning her costumes, since what is known is that Anne was something of a Tudor fashionista. "Anne was incredibly interested in fashion," explains Claire. "She really paid attention to detail about her outfit that would make her stand out."
But acting in Tudor garb wasn't all that easy for a modern woman, admits Claire. "In the first few weeks it was magical and amazing, but then it gets to July and you're in a stately home not able to drink water, sit down, not really able to breathe!"
Filming was carried out at six National Trust properties in the southwest that lend great authenticity to the drama, which is bound to fuel interest in a story that continues to grip us 500 years on.
"The whole idea of divine kings, or of these rulers who lead us, is gripping," muses Mark. "When we find out what was going on with Kennedy or Clinton, or eventually find out what was going on in Obama's mind, it's riveting. We're fascinated, aren't we?"
Wolf Hall, wednesday, 9pm, BBC2
Source: Sunday Express
See Also:
Sunday Express – Wolf hall star Damian Lewis: 'Eton taught me to be king'