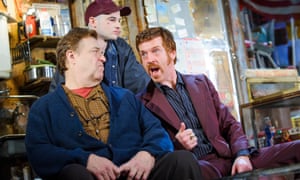 On the surface the play looks simple enough. Don Dubrow, who owns a junk-shop filled – in Paul Wills's astonishing vertical design – with the detritus of American history, plans to rob a customer of a rare Buffalo nickel. He enlists the help of Bob, a druggie young protégé whom he clearly loves. But Don is tempted by a glib-tongued drifter and fellow card-player, Teach, to cut Bob out of the deal and let the two of them organise the raid and share the profits. The result is catastrophic for all concerned.
The play sprang out of Mamet's close observation of street life and the vitality of the 1970s Chicago theatre scene, in which anything was possible. But the durability of the play depends on its ability to transcend itself and take on multiple meanings. On the psychological level, the play is a tragedy about Don's destructive betrayal of Bob, for whom he has an implicitly homosexual passion, and his need to re-learn the values of trust and friendship. The play also has a palpable political dimension. The characters are all failed products of the American Dream, inhabit a world where "business" (a key word in the play) is equated with crime and, in the wake of Watergate, attempt a bungled robbery.
Read the rest of the article here.