The Money Run
A $20 million helicopter heist in the middle of the Vietnam War. What could possibly go wrong?
Damian's brother, Gareth Lewis, a screenwriter, director and producer living in London, is developing a screenplay in order to bring this remarkable story to the screen the way it should be.  Flare Pictures, Gareth's small independent production company in London, is:
raising money early on to create a script in hopes  it will not only attract a stellar cast, but also remain true to the source material and the men who fought in Vietnam.
Damian and his brother last teamed up for The Baker, also known as Assassin in Love and we all know how great the collaboration turned out!   The brothers will collaborate again on The Money Run.  Once the project is greenlit, Gareth will direct and  Damian will star in it. Damian tweeted in support of his brother: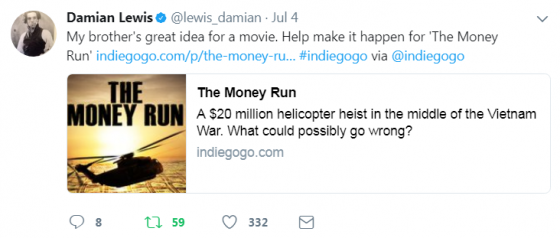 This is your chance to get in on the ground floor for an unforgettable ride.  For more information on how to lend your support for The Money Run, visit Indiegogo.
For more of an in depth review of the project, visit Fan Fun with Damian Lewis