Behind the Scenes of Season 1 and 2 Set Design
by Hugh Hart | March 21, 2018 | MPAA.org
Three years ago production designer Mike Shaw needed a change of pace from the lowdown penitentiary aesthetic he created for Orange is the New Black. In Showtime series Billions, Dash went the opposite way by designing the deluxe milieu inhabited by super-rich hedge fund shark Bobby Axelrod (Damian Lewis). "One of the biggest challenges in designing Billions is that a lot of people know what a millionaire's lifestyle is like, but the billionaire lifestyle is so much bigger," says Shaw. Axelrod has so much money, the brash broker tells his estranged wife in season three (beginning Sunday), "We're down to our last $330 million."
For Billions' first two seasons, Dash surrounded the show's financier anti-hero with the types of shiny toys and architecture favored by actual Wall Street moguls. Axe, for example, takes a private helicopter to his sons' baseball game and races around in a different six-figure sports car every opportunity he gets. "We're showing that Axe has a garage somewhere with 25 collector cars that he drive whenever he wants," says Shaw.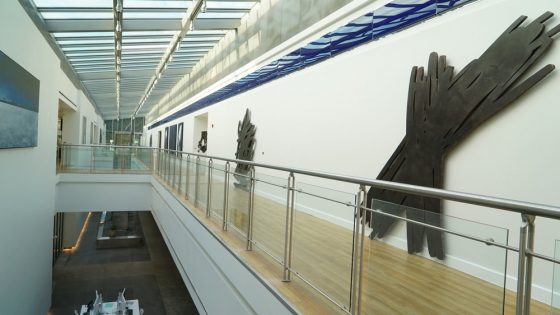 The most colorful signifier of Axelrod's wealth showed up in the artwork adorning his corporate headquarters. After researching numerous Wall Street offices, Shaw noticed that virtually every hedge fund billionaire owned something by acclaimed street artist Jean-Michel Basquiat. Billionsfeatures a 10-foot reproduction of the artist's 12-foot long "Nile" masterpiece. "The Axe Capital space looks so much like a gallery, it couldn't just be a Basquiat-like painting. It has to be a Basquiat," Shaw says. "Alot of hedge fund guys collect very expensive art, so the goal for season one was to put together a blue chip art collection that intimidates people when they walk into Axe's office. We want to hit you over the head with art that's bold because Axe himself is bold."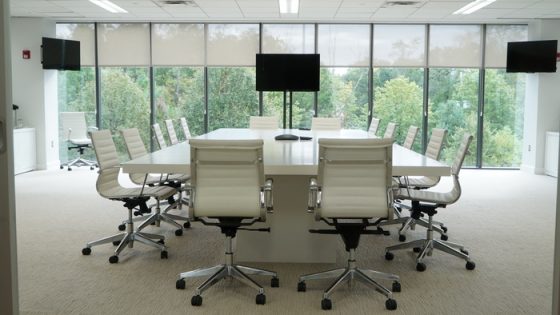 Securing the rights to replicate high-status art pieces was not easy, so Shaw enlisted the Cultural Corps company to negotiate with artists and their estates. "It's a complicated process," Shaw explains. "We first we got high-end photographic reproductions of the art, then we'd print it and get the image stretched on canvas. After each season, the contracts stated that we had to destroy the art work. But for Billions, it had to be the real thing by a real artist for this particular space to feel authentic."
The artwork, which took a more subdued turn in season two to reflect Axlerod's dark turn of fortune, functions as high-status eye candy in Axe Capital's sleek corporate offices. Producers found an abandoned office park in Rockland County, upstate New York as a stand-in for the fictional offices in Westport, Connecticut, where many hedge fund managers ply their trade. "We wanted to make Axe's world very clean and efficient and streamlined," Shaw says. "There's not a lot of clutter. Most of all, we wanted Axe's headquarters to feel magnificent and highly designed."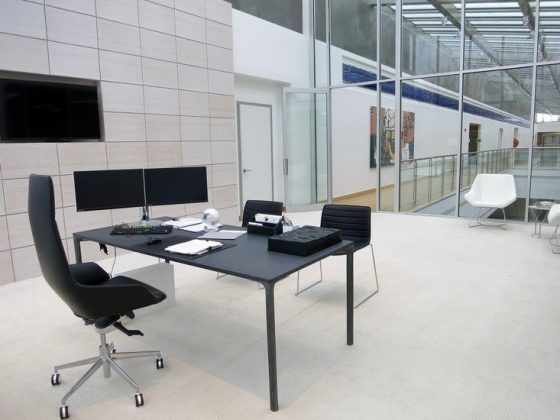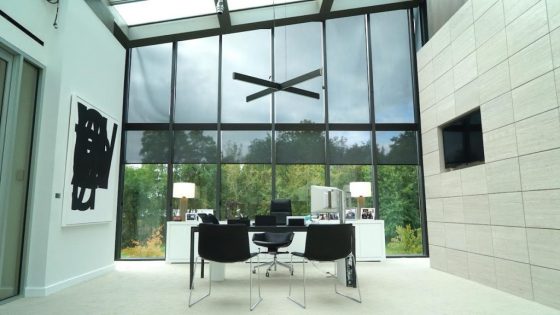 The second season, for example, features Tony Smith's sculpture For P.C., a hulking seven-foot-wide, five-foot-tall black mass. The team fabricated and installed a full-scale plywood reproduction of the welded bronze original (with the assistance of the artist's estate) in the atrium of Axe Capital's offices.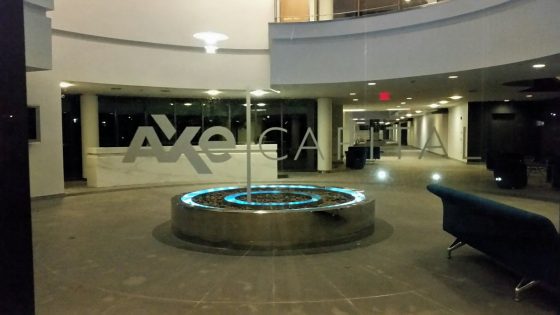 The whole process begins months in advance of shooting, and once licensing is agreed on, the works have to be printed, stretched, framed, and hung in the spaces, just as a real hedge fund would decorate its offices with real art. But the production designer also has to consider how the work will look to viewers on the other side of the TV screen.
For a scene in which Axe Capital analysts are poring over stock-market data, for example, Shaw chose "a work that is simple, and doesn't detract from the charts and graphs projected on the computers, or actually resembles the chaos of a Bloomberg chart." Shots inside the lead character's home, meanwhile, reveal a darkened safe that houses Old Master paintings and crates with Sotheby's auction house stickers.
Shaw considers the art in "Billions" an essential tool to set the mood and reflect broader developments in the soapy plot. In the first season—which establishes Axelrod as a driven, take-no-prisoners kingpin—the hedge fund's offices are full of paintings by brand names and market darlings.
The Axe Capital set included Basquiat's nearly 12-foot-long Nile, along with paintings by David Salle, Adam Pendleton, Aaron Young, and Kristin Baker. (Notably, the real Steve Cohen is the reported consignor of a Basquiat painting in last week's postwar and contemporary sale at Christie's.) These colorful, high-impact compositions immediately show the audience "that these are high-powered people," Shaw says. "The other thing we wanted to convey is that Axe [Damian Lewis] is ruthless. So the art had to be in-your-face, bold."
Things took a turn in the second season, which ended last week. When the season begins, Axe has destroyed his company and his entire legacy is thrown into question. "The showrunners wanted to have a completely different feeling—more oppressive, and austere feeling," Shaw says.
"My reference for the second season was World War II bunkers, feeling like he is shut down emotionally, so we went more with photography…things that are more industrial and cold." That included Edward Burtynsky and Gregory Crewdson photographs, as well as paintings by Carla Klein of bleak landscapes and endless roads as seen through the windshield of a car.
"In the first season we already established yes, he has stuff that's really important and expensive," Shaw says. "For the second season, you might not know that this is a Gregory Crewdson, but it's really important to convey the emotional impact."
To help realize his vision, Shaw works with Culture Corps, a for-profit company established by Art Production Fund founders Doreen Remen and Yvonne Force Villareal in 2012. Shaw identifies the works, and then Remen and Villareal collaborate to make the vision a reality, tapping into their 20-year-long relationship with artists and estates to acquire image licenses.
But not everything always goes according to plan. Along with paperwork and budgetary restrictions, there are other potential hiccups. Some artists aren't interested in serving as window dressing for a fictional hedge fund. Robert Longo, for instance, demurred from having one of his works included in the show's first season.
For the first season, Shaw wanted to secure a sculpture by John Chamberlain. But the artist's gallery, Gagosian, had planned a show of his work right in the middle of the "Billions" production schedule, so the collaboration wasn't possible. In the end, the designers went with a work by Joel Shapiro instead.
Sometimes, even hedge-fund managers have to compromise.
Season three Billions, designed by Ed Verreaux (Jurassic World, Looper), continues to find its dramatic friction in the contrast between lean, T-shirted Axelrod and his doughy, three piece suit- encumbered nemesis Chuck Rhodes, U.S. Attorney for the Southern District of New York. "Chuck's world is everything that Axe's is not," Shaw says. "It's chaotic, the desks are cluttered, and you get the sense that these people locked down like they're in a bunker. We wanted it to feel claustrophobic so the ceilings are low and we used a lot of traditional wood and beige. It was really important to contrast all of that with Axe Capital, which feel airy and light and modern."
Read the rest of the original article at MPAA.org
Secondary Source: Artnet
View entire design portfolio here