Damian Will Play a Flashy, Unpredictable Politician with No Filter
by Michael Oliveira | The Globe and Mail | April 10, 2018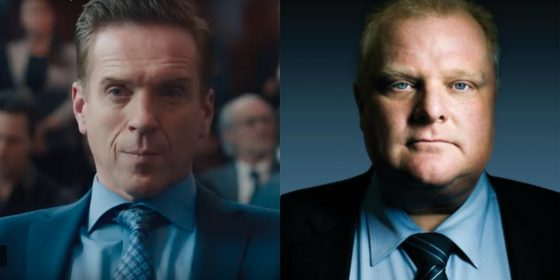 As we initially reported back on March 26 and confirmed by both Deadline and The Hollywood Reporter, Damian will play controversial ex-Toronto Mayor Rob Ford in the drama, Run This Town. In an interview released today, Damian revealed he was fitted with a prosthetic in order to play the former mayor, who died in 2016 at the age of 46. Damian told Kit Magazine the process took an entire afternoon, which involved "getting his face and head completely covered in silicon strips, breathing through a small hole near the nose."
However, writer-director Ricky Tollman clarified the film is not a biopic. Tollman says Ford is actually a fairly minor character in the story of a young wannabe journalist and other millennials who struggle to make a living in a post-recession economy. Ben Platt plays a bumbling newsroom intern who wants to break the story on the Ford scandal — but is several steps behind other reporters.
Tollman said he was thrilled to recruit Lewis to portray Ford, calling him "one of the most talented actors working today."  "I thought that this is a guy that can play the moments of darkness and depth, but can also play the lighter moments. Rob was a guy that was elected because people wanted to grab a beer with the guy, you know?" said Tollman.
"He [Lewis] took to the idea that this wasn't a one-dimensional version of this character."
"This isn't the Rob Ford story, this is a story about people that I know and people I grew up with and a generation of people," said the 32-year-old first-time director, who noted the Ford character is only "in a few key scenes and a few key moments." He added that he wanted to create "a sympathetic portrait" of Ford and his tumultuous time in office before he died in 2016.
"And I didn't want to portray Rob in a way that people already imagined him or in ways he's already been portrayed in the media…. I think Rob isn't just a caricature, he's a person and he's a human, he had two children and a wife and a family, and he cared very deeply about the city he was the mayor of. And this was a guy with demons.
"I wanted to show a side of him that people forget about."
Ford was mayor from 2010 to 2014, but had already established a history of public intoxication and substance abuse. During his years as mayor, a video surfaced of him smoking crack cocaine; he was accused of sexual assault and argued publicly with staff while intoxicated.
Read the rest of the original article at The Globe and Mail
Original/Previous Posts
by Amanda N'Duka | Deadline | March 26, 2018
UPDATED 4/4/18: According to The Hollywood Reporter, Jennifer Ehle, Scott Speedman and Gil Bellows have joined Damian and ensemble cast in the the political thriller Run This Town that is now filming in Toronto through May 2, 2018.
Many of the details remain under lock and key — IMDb doesn't even have character names — but the film is understood to follow a reporter (Ben Platt) who attempts to expose a scandal involving a politician who doesn't play by the rules. The politician's aides, played by Nina Dobrev and Mena Massoud, try their best to handle him and keep the story suppressed.
ORIGINAL 3/26/18 post: Tony-winning actor Ben Platt (Dear Evan Hansen), The Vampire Diaries alum Nina Dobrev, and Mena Massoud, star of Disney's live-action Aladdin film, have signed on to topline the drama pic Run This Town, along with Emmy winner Damian Lewis (Billions, Homeland). The film was written by Ricky Tollman, who will also direct the piece, marking his feature directorial debut.
According to Mr. Will Wong.com, a source indicates they will be filming in the City of Toronto around April.
The plot follows a young journalist (Platt), desperate to prove himself, who catches wind of a scandal involving a flashy, unpredictable politician with no filter (Lewis). Political aides (Massoud and Dobrev) attempt to keep their boss in check – and the story under wraps – in order to save their jobs.
Read the rest of the original article at Deadline