See Damian Transform Into Toronto Ex-Mayor Rob Ford
by etalk.ca | April 23, 2018
Damian's transformation into late Toronto Mayor Rob Ford for the movie Run This Town is complete.  He took to Twitter to give us fans an inside look into the prosthetic preparation.
Exclusive first-look at photos with Damian transforming into full costume:
Damian was spotted arriving to his trailer on Sunday, April 22 at 8:30 p.m..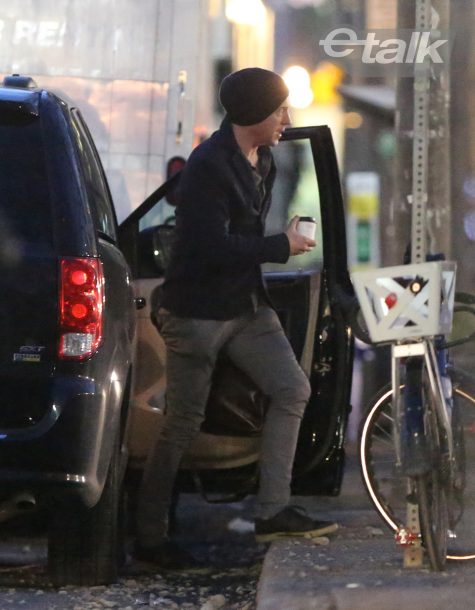 By midnight he was spotted during a break with his Ford face still in progress, but wearing the infamous Ford Nation t-shirt.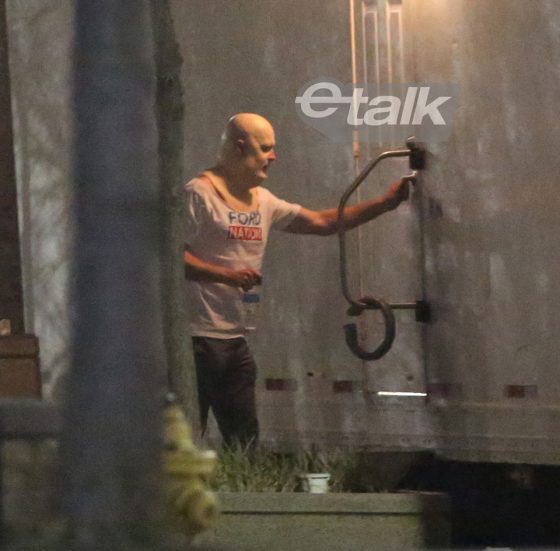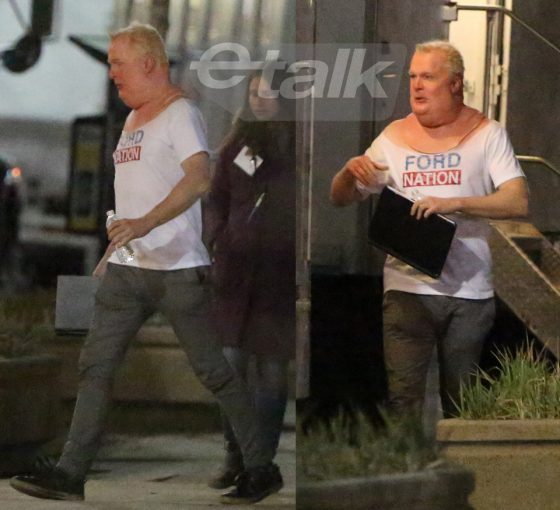 Photographs taken at 3:30 a.m. show Damian in full costume – gray suit and blue dress shirt with striped tie. That means the entire process of becoming Ford seems to take approximately 7 hours.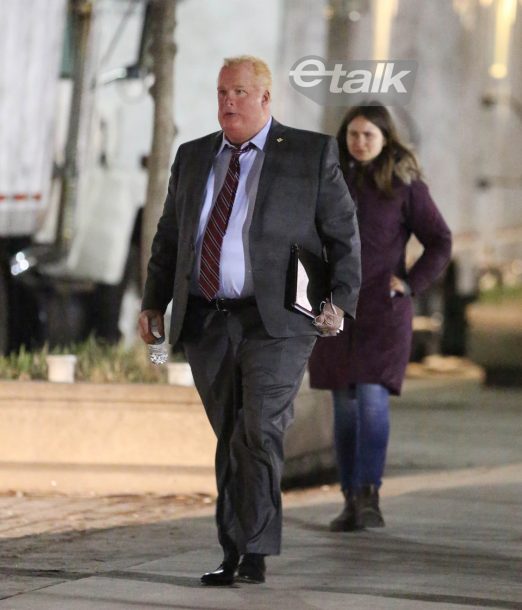 In an interview for Kit Magazine, Damian revealed he was fitted with a prosthetic in order to play the former mayor, who died in 2016 at the age of 46. Damian explained the process took an entire afternoon, which involved "getting his face and head completely covered in silicon strips, breathing through a small hole near the nose."
Writer-Director Ricky Tillman revealed Ford is actually a minor character in the film with only "a few key scenes and a few key moments."
Tollman said he was thrilled to recruit Lewis to portray Ford, calling him "one of the most talented actors working today."  "I thought that this is a guy that can play the moments of darkness and depth, but can also play the lighter moments." "He [Lewis] took to the idea that this wasn't a one-dimensional version of this character."
He added that he wanted to create "a sympathetic portrait" of Ford and his tumultuous time in office before he died in 2016.
"And I didn't want to portray Rob in a way that people already imagined him or in ways he's already been portrayed in the media…. I think Rob isn't just a caricature, he's a person and he's a human, he had two children and a wife and a family, and he cared very deeply about the city he was the mayor of. And this was a guy with demons.
"I wanted to show a side of him that people forget about."
Ford was mayor from 2010 to 2014, but had already established a history of public intoxication and substance abuse. During his years as mayor, a video surfaced of him smoking crack cocaine; he was accused of sexual assault and argued publicly with staff while intoxicated.
The plot follows a young journalist (Platt), desperate to prove himself, who catches wind of a scandal involving a flashy, unpredictable politician with no filter (Lewis). Political aides (Massoud and Dobrev) attempt to keep their boss in check – and the story under wraps – in order to save their jobs.
Filming continues in the City of Toronto April-May, 2018.
To view more images, please visit our Gallery
Read the rest of the original articles at etalk.ca and The Globe and Mail
For an in depth take with the Director Ricky Tollman, read additional article at The Globe and Mail
Everything we know about the movie so far, read here