On the Trading Floor for CureEB and Sir Hubert von Herkomer Arts Foundation
by Gingersnap | damian-lewis.com | September 11, 2018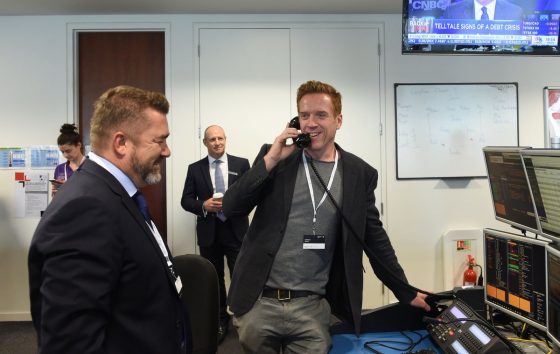 Damian makes trading look easy as he participates in the 14th annual GFI/BGC Charity Day 2018 on Tuesday, September 11, 2018 in London for CureEB and the Sir Hubert von Herkomer Arts Foundation. He stated,
"Axe is gonna bring some insider info to the floor to really crank those trades."
First up was GFI Charity Day where Damian hit the trading floor for CureEB. CureEB is passionate about medical research and clinical trials that will help lead to treatments and a cure for Epidermolysis Bullosa, a severe genetic skin condition that leads to blistering and skin loss at the slightest friction. Children with the condition are often referred to as 'Butterfly Children' as their skin is said to be as fragile as a butterfly's wings. To learn more about the CureEB Butterfly Run on September 30, click here.
Next up was BGC Charity Day where both Damian and Helen wowed the brokers for Sir Hubert von Herkomer Arts Foundation, a foundation dedicated to ensuring that every child is given a chance to connect with and express their inner artist in a time when funding for the arts are squeezed out of the mainstream curriculum.
Here are a couple of videos of today's event:
Many actors, public figures and sports icons joined the trading floors to participate in this year's Charity Day that gives back to over 150 organizations, supporting charitable causes ranging from cancer research to community development to assisting veterans and emergency personnel.
Follow BGC Charity Day and the Cantor Fitzgerald Relief Fund on Instagram, Facebook, Twitter and LinkedIn for LIVE updates on all of the celebrity guests throughout the day. Visit BGC's Facebook page between 12:30 p.m. – 1:00 p.m. today for a LIVE stream from the red carpet!
To view more images, please visit our Gallery