SXSW Film Festival Announces 2019 Lineup
by Gingersnap | damian-lewis.com | January 16, 2019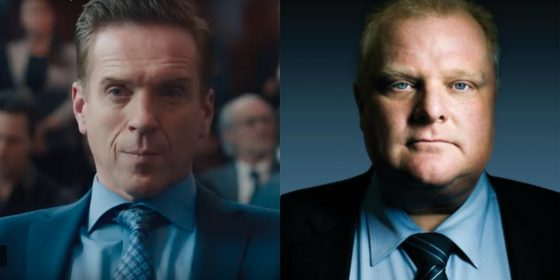 The SXSW Film Festival lineup features high caliber and diverse films ranging from independent films by new filmmakers to Hollywood comedies and genre standouts. For nine days, creatives of all stripes gather for the acclaimed SXSW Film Festival program to celebrate raw innovation and emerging talent from both behind and in front of the camera. The festival will be March 8 – 17, 2019 at the Austin Convention Center in Austin, Texas.  Run This Town, featuring Damian Lewis as Toronto's ex-Mayer Rob Ford is in the Narrative Spotlight, a segment dedicated to high profile narrative features receiving their World, North American or U.S. premieres. The film is scheduled to premiere Saturday, March 9 at Stateside Theatre from 8:30 p.m. – 10:09 p.m., with additional screenings on March 11 at Alamo Lamar at 11:00 a.m. and March 15 at Alamo Ritz starting at 11:15 a.m. Details:
Run This Town (Canada)
Director/Screenwriter: Ricky Tollman
Primary Entry: Platinum Badge, Film Badge
Secondary Entry: Music Badge, Interactive Badge, Film Festival Wristband
Year:  2019
Premiere Status: World Premiere
Genre:  Drama
Screening Section: Narrative Spotlight
Screening Format: Narrative Feature
Country: Canada, United States
Language: English
Runtime: 94:00 mins
Plot: After graduation, Bram gets his dream job at a local newspaper. In his mind he's the next Woodward (but he's probably more of a Bernstein). A year in, he realizes that maybe the paper business is no longer what he'd seen in the movies. Instead of investigative journalism, he is writing easily consumable Top 10 Lists – Best Hot Dogs in the City! Ten Ways to Tell You Grew Up in the 90s! After the paper is hit with another round of layoffs, Bram stumbles upon a potentially explosive story involving the city's controversial mayor. But he needs to beat the mayor's smooth talking aide, Kamal, to the punch. This could be Bram's big break — if he had any idea how to be a real journalist.
Summary: A political aide tries to corral his brash, outspoken boss when a young researcher at a newspaper gets word of a scandal that could make or break both of their careers.
Cast: Ben Platt, Nina Dobrev, Mena Massoud, Damian Lewis, Jennifer Ehle, Scott Speedman
Here is a first look at Run This Town
For more information, visit SXSW