The Lehman Trilogy
by Gingersnap | damian-lewis.com | May 22, 2019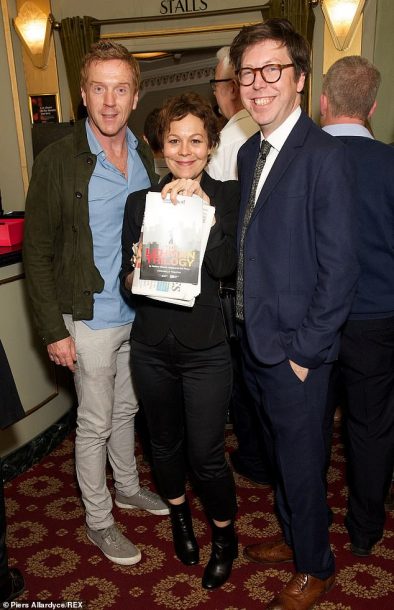 Thespians Damian and Helen, pictured with Ben Power here, attended opening night of award-winning The Lehman Trilogy play at London's Piccadilly Theatre on Wednesday, May 22, 2019.
They joined Press Night for a VIP preview of the new production. Others in attendance were Adrian Lester, Stephen Mangan, Helen George, Natalie Dormer, Iain Glen and Ben Power.
The Lehman Brothers have opened their doors in the West End for a limited, 16-week run. It is story of a family and a company that changed the world, told in three parts on a single evening.
On a cold September morning in 1844 a young man from Bavaria stands on a New York dockside. Dreaming of a new life in the new world. He is joined by his two brothers and an American epic begins.
163 years later, the firm they establish – Lehman Brothers – spectacularly collapses into bankruptcy, and triggers the largest financial crisis in history.
Bobby Axelrod knows a thing or two about Wallstreet and the financial crisis!
The play was adapted by Ben Power, with Sam Mendes directing Simon Russell Beale, Adam Godley and Ben Miles who play the Lehman Brothers, their sons and grandsons.