The Family's Holiday House and Why Damian Isn't Asked How He Juggles It All
by Julia Llewellyn Smith | The Times | August 12, 2019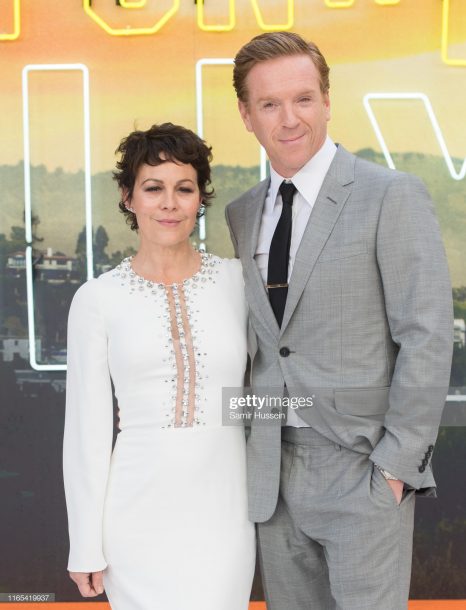 Gosh, but having lunch with Helen McCrory is a daunting experience — a bit like sitting down with a more intelligent version of Princess Margaret or the seventh, undiscovered Mitford sister. Even though she's a dainty thing, McCrory has extraordinary presence, crackling with the energy that has suffused her stage performances at the National, the Donmar and the Almeida and that underscored film roles such as Harry Potter's Narcissa Malfoy. It has also made her the star of TV dramas such as Penny Dreadful and Peaky Blinders, the long-running BBC period crime drama that we're here to discuss.
Her commanding aura is boosted by her Pathé-newsreel husky tones and by her marriage to another superstar, Damian Lewis, of Homeland and Billions fame. The couple are self-described "party animals", frequently photographed looking Burton-and-Taylor glamorous on red carpets, and I imagine she would make the most brilliant hostess — fun, engaged and full of droll bons mots and anecdotes.
The regal effect is further enhanced by the fact that, in the pleasant but unglamorous surroundings of the British Film Institute restaurant on a baking-hot day ("I'm starving," she barks before ordering asparagus, followed by a cobb salad with truffle fries), McCrory is in a long, flowery dress and full make-up for that evening's London premiere of Peaky's fifth season. "It'll look good when it gets dark. For now it's like, 'My God, she's like Liz Taylor the wheelchair years,' " she drawls.
McCrory doesn't do traditional interviews, where she talks and I listen. Instead, she expects a conversation with topics ranging from how all young women today look identical ("Our generation had so many more styles to choose from. I really wanted to look like Debbie Harry — obviously quite a leap — then Siouxsie Sioux . . ."); to the recent resignation of the British ambassador to the US (McCrory's father was a diplomat in countries such as Tanzania and Cameroon); to Peaky-related philosophical questions such as: "Is an act of goodness still good if you do it out of badness?" (She decides no.) It leaves me quite anxious that I haven't been stimulating enough company.
McCrory comes across as thoughtful and kind, while also being endowed with a steely sense of self (something expressed through endless self-deprecating remarks) and a marked dislike of introspection. These aren't usual traits in actors, but characteristic of people like her (and Lewis — an Old Etonian) who did much of their growing up surrounded by strangers, where it was vital to keep up a perky front. You can just imagine her making intelligent small talk at embassy cocktail parties as revolutionary bullets peppered the compound walls.
"My parents are a very sociable couple so we always had lots of people round us and they are almost brutally unneurotic," she says. "There was plenty of drama in the background, but there was certainly no navel-gazing."
The peripatetic childhood proved perfect.
She's instilling the same gung-ho spirit in her children, Manon, 12, and Gulliver, 11, who are spending most of the summer in the family's holiday house on the Suffolk/Essex borders (in term time they live in Tufnell Park, north London).
"It had been on the market for a long time," she says. "You've got to be very careful with the second-home thing that you're not buying somewhere someone else might have wanted. Now it's just full all the time. Either we're all there and we invite people or we give people keys to use it. There's nothing in there, a sofa and a record player — we literally just gutted it, moved the furniture out and painted it white. The decorators were, like 'What kind of white?' and we were, like, 'Just white.' I don't care about things like paint charts. For some people a home is a reflection of who they are; to me it's just where I am."
When they leave, it's to pootle around the British Isles in a camper van that the family have rented for the past few summers (this year they spent a few days at the Latitude Festival in Suffolk). "It's just the best. All the chickens are in the nest around you and you can just stop and say, 'OK, let's have lunch here or see what's down there.' "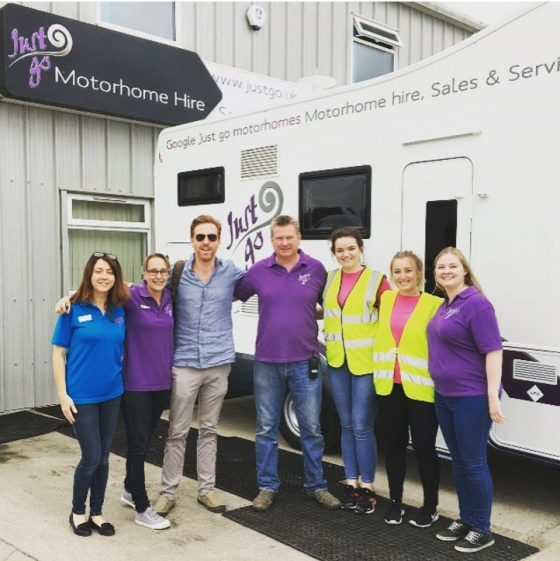 Lewis takes the wheel because, while McCrory has a US driving licence, in the UK she has only a provisional. "I'm fine driving in London, but I don't like parking because people get stroppy behind me, so basically I continue to drive around until the petrol runs out."
Would she like to nail the driving? "Nah, too many things I need to master." For example? She decides possibly playing the piano — but then maybe not because piano players tend to bore people with recitals ("I used to go out with a lot of boys who did that"). And learning to cook better. "And I've got about 7,000 books I want to read but . . . actually I've got very little ambition." So no bucket list? McCrory's brown eyes roll in perfect Lady Bracknell style. "Jesus Christ, no! People with bucket lists are really weird."
I don't entirely buy McCrory having no ambition; rather, she has never needed to worry about where the next job's coming from. After returning to Britain as a teenager and taking A-levels at boarding school, she was rejected by the Drama Centre in London, so went off to see the world, before returning a year later brandishing offers from five other drama schools. The Drama Centre took her on and within weeks of graduating she had the lead in Richard Eyre's Trelawny of the Wells at the National, for which she was nominated for an Ian Charleson award.
There have been none of the Me Too incidents that some of her peers have experienced. "I mean, there have been times in my life when somebody's put their hand on my thigh in an inappropriate moment and I just said, 'What are you f***ing doing, you weirdo? Get off!' And they go [she assumes an American accent] 'Ha, ha, ha, you're so sparky!' and you go, 'Yeah, you old perv, go away, you're too old,' and that's it. Everybody else has been lovely."
She has avoided typecasting, playing everyone from Anna Karenina and Medea to Cherie Blair and frumpy Margaret Peel in Lucky Jim. Next up she is voicing a snow leopard in the BBC adaptation of Philip Pullman's His Dark Materials. And she plays the lawyer of Major Charles Ingram, who cheated to win Who Wants to Be A Millionaire?, in Stephen Frears's ITV drama Quiz, an adaptation of James Graham's play.
"My searing lack of ambition allows me not to have to work all the time," she says, "so if I get offered something that's exactly the same as something else I've done, then I'm not, like, 'Oh my God, I've got to take it because no one's ever going to employ me again.' I just think, 'No.' "
Her role in Peaky Blinders is classic McCrory fodder. Aunt Polly is the de facto matriarch of the thuggish Shelby family who lead the Blinders, based on the real-life gang that terrorised Birmingham between the wars. She's sexy and menacing yet suffused with pathos as she struggles to protect her son Michael from the Blinders' malign influence.
On paper the clan are vile psychopaths, yet still we root for them. "We like them because [the show's creator] Stephen [Knight] makes them suffer for their sins," McCrory says.
"It's very violent — you can't have unviolent violence and yet you do a lot on television: you see people going, 'Ooh, ow, this is horrible!' But violence should disgust you and make you want to look away. And you should see the fallout of big men self-medicating after they've killed someone. Killing someone should f*** you up — it's not in the right way of things to do that."
The previous series ended with the gang leader Tommy Shelby (played by Cillian Murphy, "one of my best friends, a truly gentle man") being elected an MP. In season five — set in the aftermath of the Wall Street crash — he has dealings with Oswald Mosley (played by Sam Claflin), as well as having to come to terms with his new public status. "This was the first time the public were becoming interested in people's private lives — before that Lloyd George was having affairs and children who were nothing to do with his job and no one cared, and quite frankly I totally agree."
McCrory has no curiosity about how other famous people conduct their lives (possibly because it's her world) and can't understand why any of us should care about hers. "I'm basically just not that interested in other people," she says. "I'm not very girly in that way."
I had been warned that she wouldn't tolerate questions about her work-life balance. "Well, why is it relevant? No one asks Damian about how he juggles . . . [or] where he bought his suit from." I'd ask Damian, I insist. "Why? Is it supposed to be inspirational? I mean, I understand when you're 14 you go, 'Oh, Coco Chanel only wore black. I'm only going to wear black. But then you're, like, 'F*** this, I'm sweaty, I'm going to wear pink.' " For what it's worth, the couple tend to take turns to accept jobs and employ a nanny.
The conversation turns to social media. McCrory doesn't touch it. She used to talk a lot about how her children rarely used screens. Now, she says wryly, "it's not going so well. If you can't tell your six-year-old to get off the screen and stay off, then you've got to really f***ing worry about your parenting. But now they're actually using them to communicate with their friends."
Still, they are not yet Instagram addicts. "I'm getting in there before it starts happening. I keep shouting at the children, 'I'm going to be a consumer! I'll work for General Electric peddling advertising.' " That confused her children as much as me. "They're both, like, 'What are you talking about? I'm in the bath reading a book.' "
Needless to say, McCrory had no midlife crisis when she turned 50 last August. "God, no! Why would I do that? The alternative is a lot worse."
In keeping with his devoted husband image, Lewis threw her a surprise party. "We were in a hotel and I was in bed with a really, really bad cold and said…
Read the rest of the original article at The Times