Damian is a Dream in Dream Horse
by Olivia Buxton | Sunday Express | January 26, 2020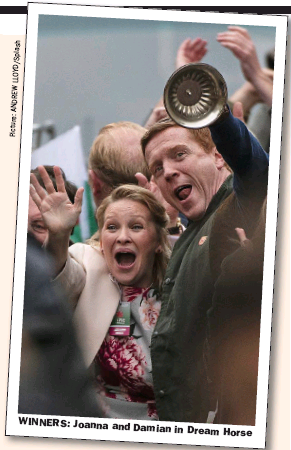 It's a long way from an old slag heap in a Welsh mining village to the red carpets of Hollywood. But, then again, how often has a horse bought on a whim for £300 beaten the multi-millionaires of the sport of kings?  And all that after undergoing a revolutionary stem cell treatment to overcome a life-threatening injury which was feared would stop him ever racing again.
Now the rags-to-riches story of Dream Alliance and how he brought hope to one of Britain's most deprived spots is a film with Homeland star Damian Lewis, Gavin & Stacey's Joanna Page and hit Broadway actress Toni Collette. It was even screened at the swish Sundance Film Festival in Utah on Friday.
It all began in Cefn Fforest working men's club when Jan Vokes overheard tax advisor Howard Davies (played by Lewis) saying how he once ran a racehorse syndicate. It had cost him £5,000 and he'd promised wife Angela (played by Page) that he would never do anything like it again. But Jan was interested.
She cleaned at Asda and at a school and worked as a barmaid – but didn't see why she couldn't breed a racehorse. She had an allotment on a slag heap, as a child had watched her father breed budgies and had bred pigeons and whippets herself.
Howard managed to convince his wife that they wouldn't lose money and found an aging stallion for stud.
Joanna Page says it was a joy to star alongside Damian Lewis in Dream Horse,
"Damian Lewis plays my husband, Howard, and we have a syndicate in this Welsh village, where we live and we breed a racing horse. Damian's character is one of the main ones in the syndicate but Angela is not very supportive."

"But Damian was so lovely and funny to work with. He's brilliant."
They were ready and hunting for members. A club sign said: "Anybody that wants to join a syndicate of horse ownership should speak to Jan." In total, 23 people from the village signed up to pay £10 a week.
Dream Alliance – their alliance, their dream – was born on March 23, 2001. He spent a year on the allotment then moved to stables in Hereford. The syndicate saved up and when he was three he was accepted by top trainer Philip Hobbs.
On November 10, 2004, Dream Alliance made his debut watched by the syndicate who'd packed into a minibus for the occasion. They say they would have been happy with finishing tenth so were over the moon to be fourth. He then won the Perth Gold Cup before a brilliant second in the coveted Hennessy Gold Cup (behind later Cheltenham Gold Cup winner Denman). The dream continued until, in 2008, at Aintree he suffered a potentially career-ending tendon injury.
A rear hoof had somehow cut the back of his front leg, slicing a tendon, an injury so severe that most horses would have been put down on the court. Quick thinking from Jockey Richard Johnson saved his life by holding him upright to stop the tendon tearing fully. Dream Alliance was a local hero, a source of hope and inspiration in the valley, and his owners refused to give up.
"Don't put the horse down," Howard Davies told vets. It's more than a racehorse. It's a pet."
Liverpool's Royal Veterinary College said £20,000 of stem cell surgery might help but it was unlikely that Dream Alliance would race again. The syndicate voted. It did not matter that his career was over. He had won enough to pay for surgery and rehabilitation. 18 months and one race later Dream Alliance was in the Welsh Grand National at Chepstow. The odds were long, but he won.
Of the £137,000 winnings over his career, after surgery and training, the 23 syndicate members each got £1,430. Although they didn't profit materially they feel so much richer in other ways.
Dream Horse is in UK cinemas on April 17, 2020.
Read the rest of the original article at Sunday Express
View our Dream Horse Gallery here
View the Dream Horse first clip here