Giddy Up!
by Leslie Felperin | Hollywood Reporter | January 28, 2020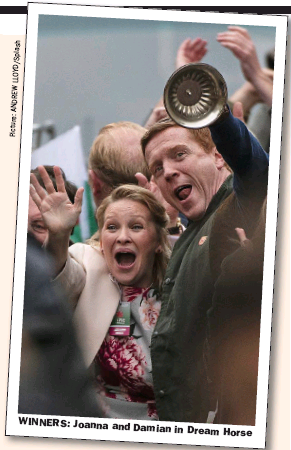 Toni Collette and Damian Lewis play members of a syndicate formed to raise a thoroughbred in this comedy-drama set in Wales and based on a true story.
Anyone who saw director Louise Osmond's 2015 documentary Dark Horse, winner of the audience award at Sundance that year, knew it was a racing certainty that this almost-too-good-to-be-true story would get made into a feature film someday. Some critics even had casting suggestions: Jim Broadbent was mentioned a couple of times for the role of Brian "Daisy" Vokes, husband of Jan Vokes (Imelda Staunton? one critic mused), who was the mastermind behind the plan to breed a racehorse and pay for its keep and training through weekly subscriptions. The members of this syndicate were mostly clients at the local village pub where Jan worked as a barmaid, in a former mining village in South Wales.
Like horse racing, filmmaking is a high-risk gamblers' game, but the team behind Dream Horse, the resulting dramatization of the Vokes' story, have surely bred a winner with this endearing, determinedly crowd-pleasing adaptation. Even without knowing the real-life facts (in the U.K., especially in Wales, the story's well known), the outcome could very easily be predicted by anyone who's ever seen a British movie about plucky, working-class folk in a provincial setting triumphing over odds or at least exceeding expectations. But thanks to a well-assembled package, smoothly directed by Euros Lyn (best known for his TV work, including Doctor Who, Broadchurch and an episode of Black Mirror), and good casting all around, crowned by the reliably excellent Toni Collette as Jan, this has every chance of sprinting to victory at the box office finish line.
Continue reading Dream Horse Review: Hollywood Reporter – Jan 28, 2020