Helen McCrory on Desert Island Discs Podcast
by Gingersnap | damian-lewis.com | June 28, 2020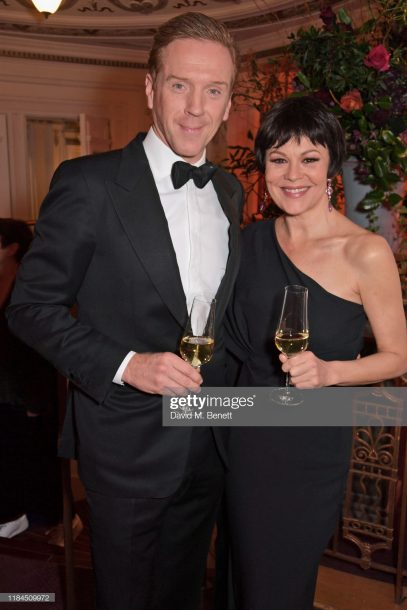 Helen McCrory OBE is one of the most versatile and critically acclaimed actresses working today. On screen she has played Anna Karenina, Cherie Blair (twice), Harry Potter's Narcissa Malfoy and the Peaky Blinders matriarch Aunt Polly. Her theatre roles range from Yelena in Uncle Vanya to Euripides' Medea.
A diplomat's daughter, she spent her early childhood in Africa before continuing her education in the UK. After a bruising and unsuccessful audition at the Drama Centre in London – she was instructed to find out more about life before learning to act – she travelled to Italy where she discovered art and love and came back to try again. This time she passed the audition.
In 1993 she made her mark in Richard Eyre's production of Trelawny of the Wells at the National Theatre and went on to perform leading roles on some of London's most prestigious stages, winning two Olivier Award nominations. She was awarded an OBE for services to drama in 2017.
She met her husband, fellow actor Damian Lewis, when they both starred in a play called Five Gold Rings. In response to the Covid-19 pandemic Helen and Damian, together with the comedian Matt Lucas, co-founded the Feed NHS campaign which raises money to provide hot meals to frontline NHS workers.
On BBC Radio 4's Desert Island Discs podcast that aired June 28, 2020, Helen McCrory shared eight music tracks, one book and a luxury item she would want to take with her if cast away to a desert island.
During her appearance she shared what it was like to meet Damian in the play Five Gold Rings,
"Damian's naughty and I've always loved my naughty boys. And he makes me laugh. And that was quite apparent early on. He just never lets me get away with anything and that would make me laugh even more. So I think we hit it off pretty quickly."
She revealed the couple had a "bumpy courtship" adding,
"We are completely different as people but we're very similar in our values. I very rarely ever sort of disagree with very fundamental things like parenting, which is a real acid test I think for any couple. I don't want to say too many nice things because he's going to be roaring with laughter at the radio and tease me."
When asked by DID host Lauren Laverne if she believed she would work with Damian again, she replied,
"We're looking to do something together at the moment actually. You've just got to be very careful though, you don't want everybody thinking 'Oh my God, here we go.' But I'd like to work with him not because he's my husband or because I know him, but because I like his acting. I think we'd  probably try and do a comedy because we're doing Who's Afraid of Virginia Wolf at home."
Helen stated how important dancing is to her,
"One of my happiest moments, and still is, (and we danced to this when I was selecting for this program) is dancing with my husband. Damian is a superb dancer. And that's very important to me – I love dancing. This [selection] just brings out all the naughtiness and I know that if ever I want him at a party and I can't see where he is – and ladies and gentlemen it won't surprise you to know that's quite often – I will go up to the DJ and I will say 'Put this song on.' And I know if I'm in another building he will find me and we will dance to this."
Helen discussed how she and Damian are filling in the downtime during the CoVid lockdown,
"I'm hear to tell you I haven't taught myself any languages, I haven't read any book of any worth, I've never had so long to sit and think. That's been strange for Damian and I. I'm mean we've never…I've only just met him. I've no idea he was an American until about a week ago! We've been with the children who are now 12 and 13. That's been a fantastic privilege to be with them."