Best Proactive Communications During the Coronavirus Crisis
by PRWeek UK Staff | PR Week | October 28, 2020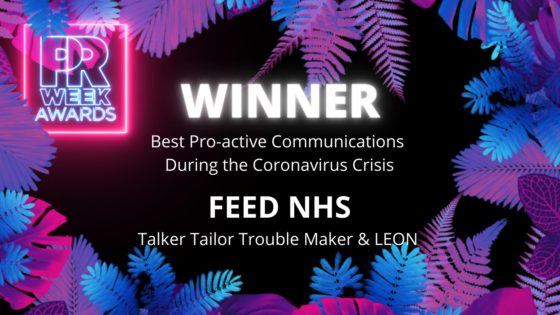 Nominated: Best Ethical or Good Cause Initiative During the Coronavirus Crisis
Nominated and Won: Best Proactive Communications During the Coronavirus Crisis
Judge's comment:
Brilliant campaign, well executed with passion.
And the winner is, FeedNHS! This campaign aimed to raise £1m to get hot, healthy meals to frontline NHS staff during the coronavirus crisis, as many struggled to get them amid lockdown closures. It was set up by Leon Restaurants co-founder and chief executive John Vincent, actors Damian Lewis and Helen McCrory, and actor and comedian Matt Lucas.
Leon had already announced a 50 per cent discount for NHS staff when the coronavirus struck, but with the severity of the crisis growing daily, more support was needed.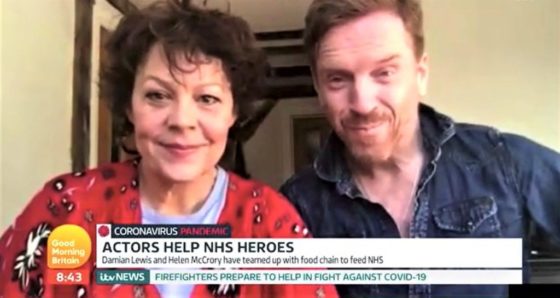 A spot on Good Morning Britain was secured for launch, with interviews with Lewis and McCrory. Brand guidelines, messaging documents, brand Q&A, interview briefings, press materials, media alerts and visual assets were created within days.
Proceeds from the release of the famously reworked version of Lucas' song 'Thank You Baked Potato', reworded to give advice on how to avoid the virus, went to FeedNHS, and placements were secured on BBC Radio One, The One Show, talkSPORT and The Andrew Marr Show.
Through contact with central government and NHS Trusts, service began to five hospitals across the UCLH and Imperial NHS Trusts in London from two dedicated Leon restaurants on 30 March; the scheme grew from there.
The campaign's initial £1m fundraising target was reached within two weeks. To mark the milestone, additional partnership opportunities were secured, creating a coalition of leaders in the catering industry. FeedNHS has since joined up with Mealforce and BaxterStorey to co-ordinate food provision for critical care teams across the NHS at scale.
More than 1,200 pieces of coverage were secured. A total of £1.3m has been raised for FeedNHS and the campaign will in total raise more than £1.7m. At the time of the entry, FeedNHS was delivering 40,000 hot meals a day to NHS staff across 101 hospitals nationwide.
Primary Source: PRWeek Best Proactive Communications here
Secondary Source: PRWeek Best Ethical or Good Cause Initiative here
For more information about FeedNHS, please visit their website here