Team Axe Wins
by Gingersnap | damian-lewis.com | July 4, 2021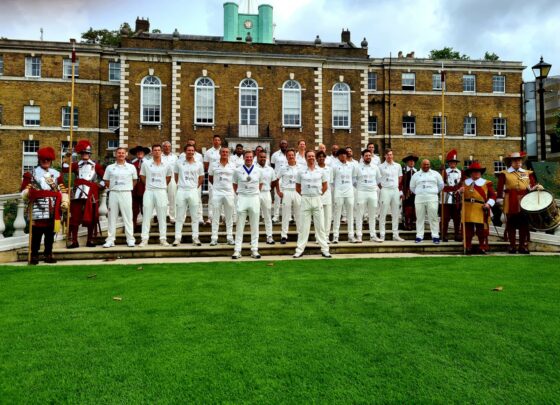 Upfront left: William Russell. Upfront right: Damian Lewis. Back row behind Damian: Gareth Lewis
Today, Sunday, 4 July 2021, Lord Mayor's Appeal held the charitable Twenty20 cricket match on the grounds of the Honourable Artillery Company venue, with Damian's brother William Russell serving as captain for his team, The Lord Mayor XI versus Damian serving as Captain for his team, The Bobby Axelrod XI. And it looks like Damian's other brother Gareth Lewis played on the Bobby Axelrod XI team as well!
The winning team was The Bobby Axelrod XI, but really both teams win because the match was for charity! The Lord Mayor's Appeal organization aims to find solutions to the most pressing societal issues in London and beyond with the strategy of working on four key pillars to create a City that is inclusive, healthy, skilled and fair.
For more information about the Lord Mayor's Appeal, please visit their website here.
View more photos of the event in our Gallery here.