England v Italy
by Gingersnap | damian-lewis.com | July 11, 2021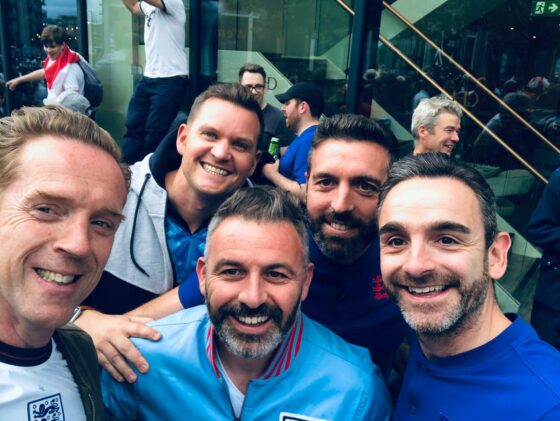 Photo by Ricky Martin
Damian (bye-bye beard) and pals attended Euro 2020 Final to watch England v Italy at Wembley Stadium on Sunday, July11, 2021. England stunned Italy with an early opener when Luke Shaw scored for the Three Lions. Shaw's opener, timed at one minute 57 seconds, is the fastest goal ever scored in a UEFA EURO final, surpassing Chus Pereda's sixth-minute effort in the 1964 showpiece. With Italy dictating play in the second half, they tied the score 1-1 with a goal from Leonardo Bonucci in the 67th minute of the match. It was a tough second half for England – Italy were able to keep more ball possession and to control the flow of the game. Bonucci become the oldest player to score in a European Championship final.
At the end of the second half, the tied match went to extra-time. This was the seventh EURO final to go to extra time (1960, 1968, 1976, 1996, 2000, 2016) and both Teams went to extra-times in their semi-finals. With no goals scored in extra-time, the match was decided by a penalty shoot-out, the first time since 1976. Italy won on penalties (3-2 p). England was so close to clinching their first major honor since 1966 and the Three Lions' first UEFA EURO title. Bummer.
View more photos in our Gallery here.
Live updates provided by UEFA.com here.