Lockdown Exodus and A Brave New World
by Gingersnap | damian-lewis.com | April 13, 2021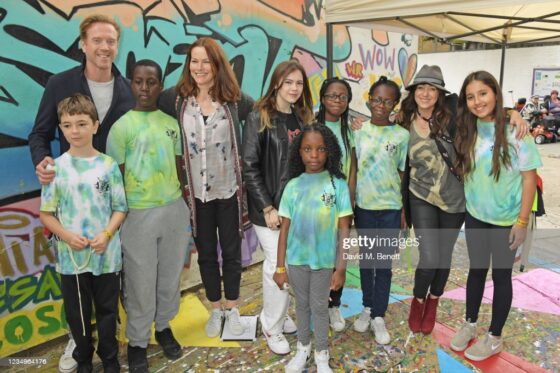 Ambassador and now Patron Damian Lewis joined the Sir HvH Arts Foundation Summer Exhibition Festival production in London on Monday, August 30, 2021 for the 'Lockdown Exodus' exhibition that celebrated young people's work in art, music and photography, and a performance by 'A Brave New World' visual arts theatre dance production by talented young artists. Throughout the day the project hosted taster workshops with their artists in residence in fashion deconstruction, tie-dye, screen printing, oils, acrylics on canvas, and photography. About a hundred community families gathered to see the musical performances, as well as art and photography produced by youth who had taken part in free sessions funded by donations and Camden Council. Up to 60 youngsters a day had been taking part in projects over the summer.
Ambassadors Sadie Frost and Michael Palin were also in attendance, who mentored young people for a film they made during lockdown called Isolation Stories. Students were also directed by the charity's artists in residence, Selina Giles and Lily Alice Clark, and actor Peter Youngblood-Hills offered mentoring sessions.
The event was also held to remember former patron Helen McCrory. Debbi Clark, CEO and Founder of Sir HvH Arts Foundation has set up the "McCrory Award" in her honor, which will be dedicated to supporting disadvantaged children and young people who are gifted in their art, yet many do not have access to the resources or training to fulfill their potential. According to Hampstead Highgate Express, Debbi Clark stated Helen would always be a patron of the charity and was still with them "in spirit."
View more photos in our Gallery here.
For more information about Sir HvH Arts Foundation and how you can donate, please visit their website here
Primary Source: Camden New Journal
Secondary Source: Hampstead Highgate Express
Video below shows Damian in the crowd.