Après-Ski
by Gingersnap | damian-lewis.com | February 19, 2022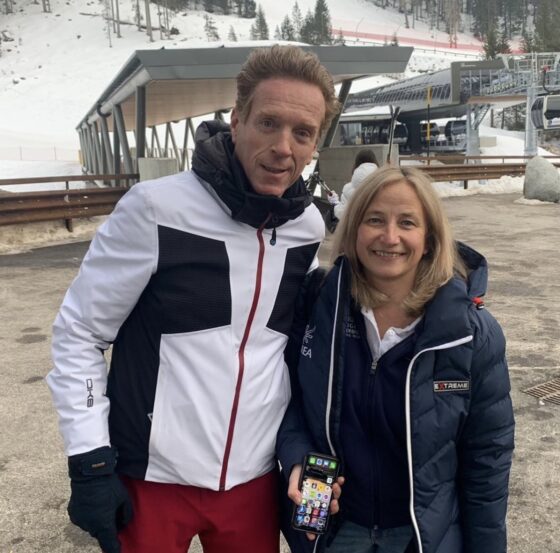 Photo Cred: Angelica
Whether it was in celebration of his recent birthday last week, a family vacation or both, Damian hit the powder-packed slopes while the rest of us watched the winter olympics on our home telly. As seen in this photo, Damian was spotted at Madonna di Campiglio, the heart of the Skiarea Campiglio Dolomiti di Brenta (Western Dolomites) in Trentino-Alto Adige, Italy, which is the paradise of all snow enthusiasts: skiing, snowboarding, cross-country skiing, mountaineering skiing and snow-shoeing for an unforgettable winter holiday.
Our favorite Ginger is athletic enough so we imagine he mastered the slopes, traversing the mountain in zigzag fashion whether tackling the blue, red or black runs. We're pretty sure no aerials or half pipes were performed though 😉  So grab your ski equipment – from your skis, boards and poles to your boots and bindings – and hop on the gondola lift for a virtual tour of the ski area and resort with us.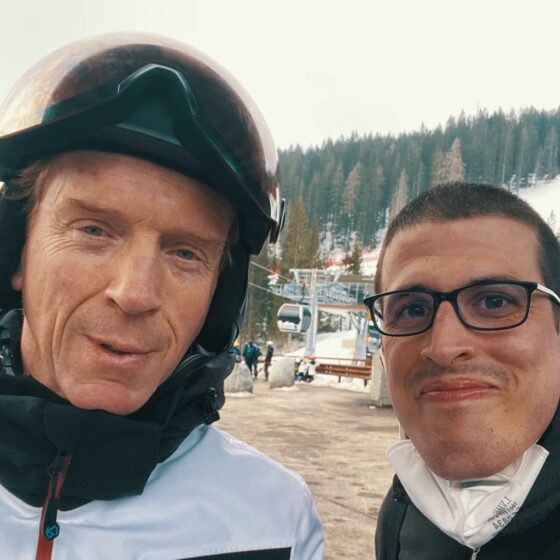 Photo Cred: Daniele
The Ski Area in Numbers
156 km (97 mi) of interconnected runs
108 runs
4 snow parks built especially for freestyle, filled with jumps, rails, boxes
59 lifts
850-2500 m (2800-8200 ft) altitude of ski area
Canalone Miramonti: the World Cup run
Tulot Audi slope: the black-diamond Doss del Sabion run
Schumacher Streif: the ski area's second-steepest descent
Amazzonia: a great classic, a black-diamond to get the blood pumping
DoloMitica: the longest run, steeper and with a greater elevation loss
Ursus Snow Park: the Alps' best terrain park
And for the kiddos? There are snow slides, snow tubes, magic carpets, music and fun activities. You can even dive down their fantastic toboggan run – from Monte Spinale you can ride down through the fields and woods surrounding the Malga Fevri alpine dairy until you reach the base station.
Madonna di Campiglio, the snow queen, is perhaps best known for being the most glamorous and stylish resort in the Dolomites. It is one location of 60 kilometers of perfect snow covered slopes and true Italian style living. The Madonna di Campiglio offers breathtaking views of the Brenta Dolomites, a UNESCO World Heritage Site and the natural wonders of the Adamello Brenta Nature Park. With it's carefree lifestyle and gourmet dishes of refined cuisine that its many star-studded restaurants and mountain huts offer, plus the elegance of its hotels, stylish shops and boutiques. Top quality craftsmanship of artisans create their works of art in their workshops in Pinzolo. Fun and excitement combined with great après ski spots in Folgarida Marilleva makes this a perfect ski holiday with the family.
Dolce vita!
View photos in our Gallery here
For more information about Skiarea Campiglio Dolomiti di Brenta Val di Sole Val Rendena, visit here or their Instagram here
For more information about Madonna Di Campigli, visit here