Destruction of Son Bridge: The Battle Prior to Episode 4 'Replacements'
by Emily Clute | ScreenRant | March 21, 2022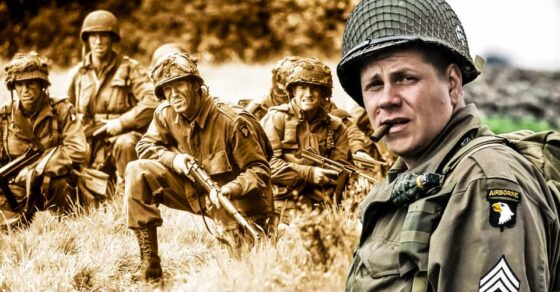 HBO's miniseries Band of Brothers told the true story of Easy Company and their time in WWII. However, one battle was left out of the series.
HBO's 2001 miniseries Band of Brothers is heralded for providing a glimpse into the horrors of World War II — but despite being based on the true story of Easy Company, the miniseries tweaks history for the sake of the story, and ultimately leaves out some of the struggles that Easy Company faced during the war. Historian Stephen E. Ambrose's book, Band of Brothers, was brought to life in 2001 by Hollywood legends Steven Spielberg and Tom Hanks, drawing on inspiration from the real-life members of Easy Company themselves. Despite working off of first-hand accounts, however, there are pieces of the story that were ultimately details left out of Band of Brothers. Here is the battle that was left out of Band of Brothers, explained.
Band of Brothers follows E Company, the 2nd Battalion of the 506th Parachute Infantry Regiment of the 101st Airborne Division — more commonly referred to as the "Screaming Eagles" or Easy Company — on their service during World War II. Comprised of men like Major Richard "Dick" Winters (Damian Lewis), Lewis Nixon III (Ron Livingston), Denver "Bull" Randleman (Michael Cudlitz), and many more, Easy Company took on some of the biggest battles of World War II. From parachuting behind enemy lines to holding the line at Bastogne during the Battle of the Bulge to occupying Hitler's Eagle's Nest, Band of Brothers' Easy Company played an integral role in the Allies' World War II efforts.
During Operation Market Garden — an unsuccessful attempt to create an Allied path into Germany by seizing bridges over the River Rhine — in September 1944, Easy Company was assigned to support British forces near Eindhoven. As British forces attempted to cross the Rhine, Easy Company would defend the path they needed to take into Arnhem. Things did not go to plan, however, as often happens in war; upon approaching the Son Bridge in the Netherlands, Easy Company was met with enemy fire. Holding back the Allied forces, German troops destroyed the Son Bridge and hindered their movement forward. While Regiment engineers were able to create a makeshift path across and continue on to Eindhoven, the loss of Son Bridge only further hurt a doomed campaign to end the war.
The destruction of the Son Bridge and the preceding battle were not featured in Band of Brothers. Following the timeline of the series, the battle would have been placed at the beginning of Band of Brothers episode 4, "Replacements," as Easy Company parachuted into the Netherlands to begin Operation Market Garden. Instead of defending the British troops' advancement, the Easy Company of Band of Brothers had a less-than eventual landing before meeting with the British forces in Eindhoven.
While Band of Brothers strived for accuracy, there were moments where the truth of the portrayal faltered some.
Read more of the original article at ScreenRant