A Celebration in Aid of the Sondheim Foundation 
by Gingersnap | damian-lewis.com | May 3, 2022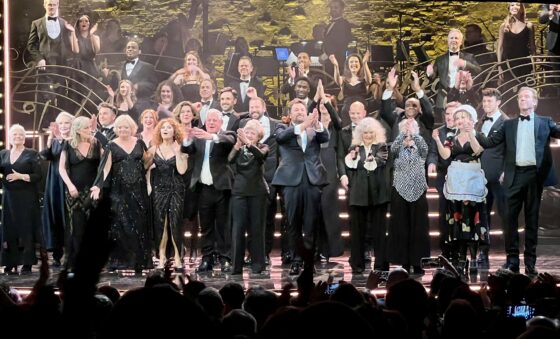 Old friends and new united tonight for the Sondheim gala, with stars joined by students from RAM and Mountview to round off an incredible evening. In Act 1, Damian sang Hello Little Girl with Bernadette Peters while adorning a tail. In Act II he sang Everybody Ought to Have a Maid with Rob Brydon, Julian Ovenden and Sian Phillips while wearing a domestic outfit over his tux. At the end of Act II, Damian sang Old Friends, Side by Side and Our Time with the Full Company. Below is a video clip from the finale and other highlights from the event – I spy a Ginger!
Secondary Source: video link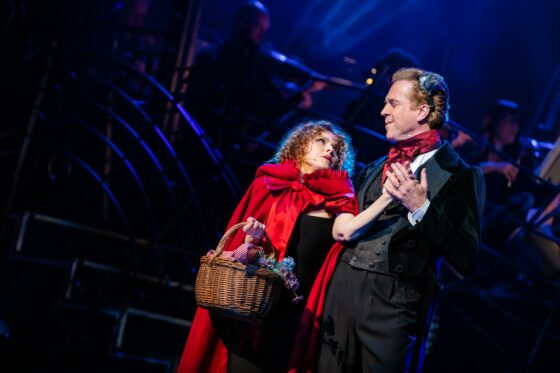 Damian with Bernadette Peters, Act I – Hello Little Girl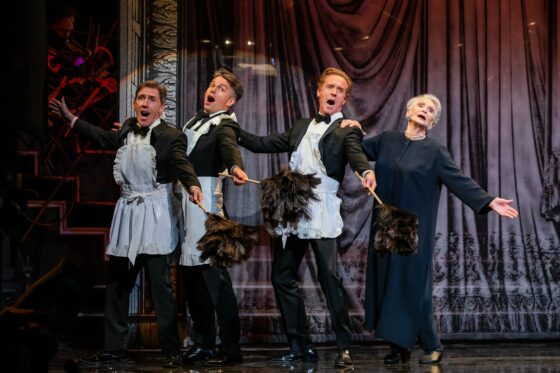 Damian with Rob Brydon, Julian Ovenden and Sian Phillips, Act II – Everybody Ought to Have a Maid
Video below shows Damian and crew making their way to the stage for the event in honor of Stephen Sondheim's work in theatre. Enjoy the video and check back for more information as it comes in! We started a gallery here and will keep adding to it as photos surface.
The Old Friends gala was a celebratory salute to the legacy of the legendary Pulitzer Prize-winning composer and lyricist Stephen Sondheim's life and work in a one-night-only performance for the Sondheim Foundation. With over 30 Broadway and West End all-star cast members confirmed, audiences were enthralled with appearances by performers who have starred in Sondheim's work over the decades such as, Damian Lewis, Dame Judi Dench, Bernadette Peters, Imelda Staunton, Elaine Paige, Michael Ball, Daniel Evans, Petula Clark, Bonnie Langford, Adrian Lester, Sian Phillips, Helena Bonham-Carter, Rob Brydon, Clive Rowe and more.
The fundraising event took place at The Sondheim Theatre on Shaftesbury Avenue in London's West End on May 3, 2022 at 8:00 p.m. There was a 26-piece orchestra conducted by Alfonso Casado Trigo for the event.
For more information about Sondheim Theatre, please visit their website here.