Intimate Show
by Gingersnap | damian-lewis.com | August 4, 2022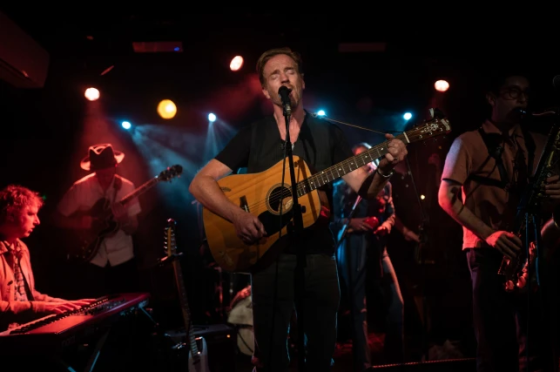 Damian Lewis unveiled an intimate warm-up performance to a sold-out crowd at London's Omeara venue on Thursday, August 4, 2022 with special guest Cherise Adams-Burnett. Damian's opening song was titled Little One which no doubt is in honor of Helen McCrory.  Other song titles included Hole in My Roof, Zaragoza, Soho Tango, Down on the Bowery, Neil Young's Harvest Moon, Never Judge a Man by His Umbrella, Tom Waits' Little Trip to Heaven, Wanna Grow Old in Paris, Makin' Plans, Why, She Comes, and JJ Cale/Eric Clapton's After Midnight.
He sang in one emotional track: 'You and me should be together 'til the end. So bye bye, baby, I can't wait to see your smile again.' Another track, which he performed near the end of his set, seemed to also relate to losing a partner. Damian sang: 'She comes as a blackbird, she comes as a fox. She sits at the window, she sings from a rock. She's the moon in the day and the sun that shines in the dark. She rests in me and she rests in shade. She's my joy, she's my pain and she rained on me.'
Damian's father, his brother William Russell and sister Amanda Yaxley were in the crowd, as well as his children Manon and Gulliver. As RSJrFanWorld shared on Twitter, "Laughter, tears, dancing, seriously fabulous shoes…our redheaded Elvis brought it all tonight." Our sentiments exactly. Damian's untitled debut album is due to be released next year.
Read the full story here
View performance videos and more images in our Gallery here
Cherise is a multi-faceted vocalist and soulful song-writer and an alumni of grassroots organization Tomorrow's Warriors who studied at the prestigious Trinity Laban Conservatoire of Music, honing a sound which she says celebrates "all the musical styles that I love without being defined strictly by any particular genre."
We'd like to thank our very own FanFunWithDamianLewis for videos and photos of the event, as well as Vincent & Irene, Bianca, and RSJrFanWorld. Without them, we wouldn't have been able to share with you the fans, all over the world!