Passionate Debut
by Neil McCormick | The Telegraph | August 4, 2022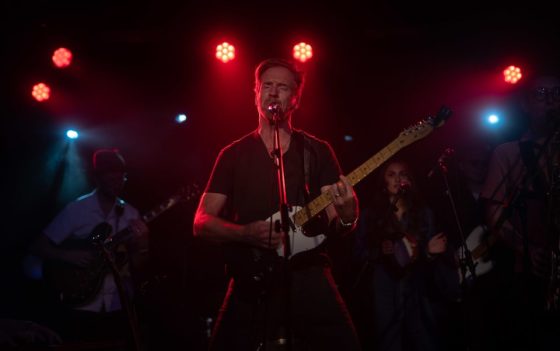 "You! Are at … our … very first! Ever! Gig!"
proclaimed Damian Lewis, as commandingly as if delivering Shakespeare with a few Pinteresque pauses.
He played a double agent in Homeland, an insider trader in Billions and an unusually slender Henry VIII in Wolf Hall. But Lewis's latest and perhaps most personal role is as a soulful singer-songwriter.
The 51-year-old TV and film star took to the tiny stage at the Omeara club in London carrying an acoustic guitar and backed by a six-piece band of jazzy virtuosos playing flowing, intense, sophisticated songs of love and loss.
Lewis's playing proved accomplished, his singing expressive. His voice was high and trembly but strong with a bit of bottom. Given that this really was his first show (a warm-up for an appearance at the Wilderness Festival this weekend), one could have forgiven some hesitation, but the experienced stage hand was a compelling performer apparently in his element.
There was vulnerability in his songs, counterbalanced by quick wit in his between-song patter.
"It's funny when you're nervous and your mouth goes dry and you have to whistle, I hadn't anticipated that,"
he joked after a slightly shaky but nonetheless melodious whistling interjection.
As the evening wore on and sweat poured down that handsome face, he admitted:
"The mascara might have been a mistake. Ladies what do I do?"
Lewis is not the first actor to pivot towards pop. Indeed, it is hard to think of a famous thespian who doesn't also have a musical side-hustle these days.
In Lewis's case, he has apparently played guitar since he was 13, and supported himself by busking before his acting career took off. Time at home during the pandemic sent him back to his guitar, though it also seems likely that the death last year of his wife, Peaky Blinders actress Helen McCrory, may have played a part in this reconnection with his musical youth.
This was a set of deeply romantic songs with real feeling, venturing from Seventies jazz soul to bluesy rock'n'roll, with a couple of deft covers of Neil Young and Tom Waits. It was full-blooded, passionate, richly musical, and completely convincing.
As first gigs go, it was a blast.
"You are the best crowd I've ever played to," joked the debutant.
On this showing, I think we'll be hearing more from this talented late starter.
View gallery here
Source: The Telegraph