Wildlings at Poshtock
by Gingersnap | damian-lewis.com | August 7, 2022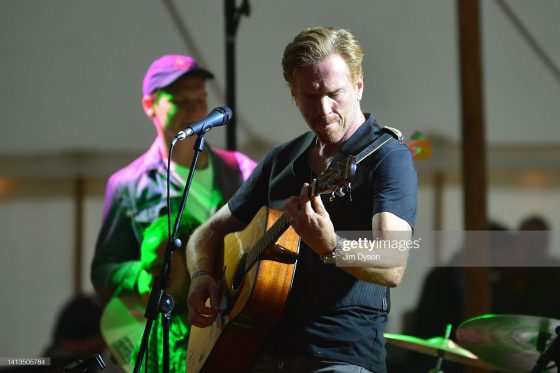 Damian Lewis unveiled his debut solo album at the Wilderness Festival on Sunday, August 7, 2022 at Cornbury Park in Oxfordshire. He performed Little One and other originals on The Forum stage, said to be the flagship ideas tent at the heart of the festival, along with an eclectic music line-up that also included South Korean DJ Peggy Gou and dance act Underworld.
Poshtock is the local nickname for the Wilderness Festival and home of luxury glamping, Michelin-starred food, mindfulness classes and champagne picnics. Set in the open rolling Cotswolds countryside, Wilderness is held each August on a 5,000-acre estate owned by Lord Rotherwick. Wilderness is a lifestyle jamboree, boasting £6,000 yurts and eclectic music and said to be a festival for the Waitrose crowd.
View videos and more photos in our gallery here
Festival-goers are referred to as Wildlings who might don hotpants and wellies. Wilderness Festival attracts the suitably A-list crowd who pay to experience sommelier-led wine classes, yoga, contemporary dance, a family field and debates, swimming in Lake Majestic, and a 'Kundalini goddess ceremony' to waken ones divine feminine energy.
Primary Source: Wilderness Festival
Secondary Source: BBC