You Can Have a Lot of Fun in the Spy Genre
by Adrian Lobb | Big Issue Magazine | November 16, 2022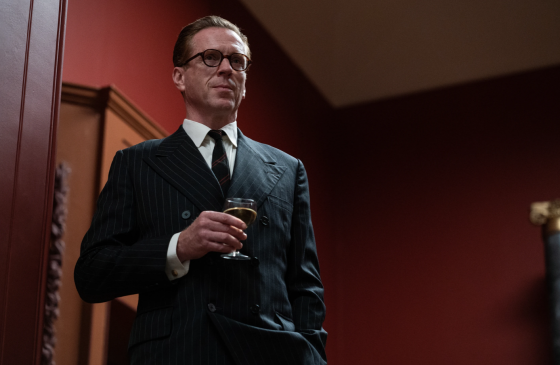 The powerhouse acting duo give us the intel on their new double-agent drama about Britain's most notorious spy. Charming, expensively educated and shamelessly duplicitous, Kim Philby is the most famous double agent in British history. Philby spent decades passing sensitive information to the KGB at the height of the Cold War. He fooled everyone.
But if Philby betrayed his country, he arguably betrayed some of his closest friends even more. And that is the story at the heart of A Spy Among Friends, a high-class, beautifully acted spy drama adapted from Ben McIntyre's sparkling book of the same name.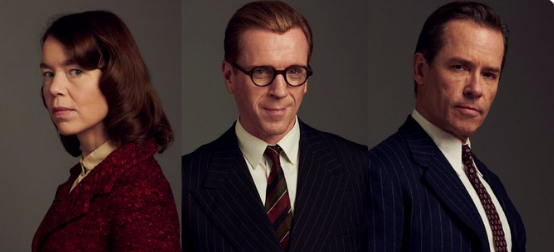 For it to work, explains Damian Lewis – who plays Nicholas Elliott, one of Philby's closest friends and the MI6 colleague tasked with confronting him in Beirut in 1963 as the secret service scrambled to stop one of their top agents defecting to Russia – finding someone to portray both the charm and the chutzpah of Philby was vital.
"We didn't have a show until we found our Philby, who is the rock star of the piece," says Lewis, who was also a producer on the series. The Big Issue is interrogating him via Zoom about the show, which will broadcast on the new streaming service ITVX, launching in December.
"He is the guy that everybody knows, if they even know anyone in this story. So nailing that was critical." He pauses, then jokes: "…and Guy [Pearce] was the best available, so we just did what we could."
Pearce, who's beaming in from New Zealand, grins. "Cheap and available. That's me."
"No, you've seen it," returns Lewis. "He's incredible in it. We got lucky."
After all these years, there remains a fascination with Philby. Why did this wealthy, debonair, well-educated man wreak such havoc, and then choose to flee to Russia? The simplest explanation – that he was committed to the Communist cause – is rarely considered.
In a long, intense, head-to-head between Philby and Elliott, the assumption is that, because the former was a "good chap", of the right class, a gentleman, he would play the game, go quietly into retirement in return for hushing up the story.
"Spy stories are great frameworks," says Lewis. "They're great worlds in which to explore heightened themes of betrayal and love, passion, desire and duplicity – all the things that I think we've all experienced on a level or another in our own personal lives. Hopefully, not day-to-day, because we'd all be dead from exhaustion.
"But these are all themes we explore in our own lives. So when you heighten it and put it in a world of espionage and intelligence and geopolitics, you can have a lot of fun in the spy genre. And it doesn't just have to be a spy thriller. In this particular story – I think Guy agrees – the intricacies of relationships, of love and betrayal is what we've tried to get at."
Watching Lewis and Pearce go up against each other – the star of Homeland, Wolf Hall and Billions taking on the actor whose back catalogue ranges from The Adventures of Priscilla, Queen of the Desert to The Hurt Locker via Mare of Easttown, Memento and Neighbours (his return this year was a joy) – is quite a spectacle. A psychological ding-dong for the ages.
"We were both champing at the bit to get into those scenes because they're so pivotal," says Pearce. "And, oh, they were great. I love that cat-and-mouse stuff, for want of a better expression."
Lewis agrees. "And they were particularly cat-and-mouse for Philby. He is the lover who's been caught with his pants down who is still denying it. I'm playing the cheated lover on the other side. So there were very different dynamics to play for both of us."
The other side of the bizarre espionage triangle in A Spy Among Friends is a composite character, Mrs Taylor, played by the brilliant Anna Maxwell Martin. Intercut between Elliott interrogating Philby are scenes of Elliott himself being questioned in the wake of Philby's defection. How could he let Philby leave? How did he not realise his chum was a double agent?
When it is a working-class woman from, gasp, the north asking the questions, the dynamic is entirely different. Love and betrayal, Cold War and class war, A Spy Among Friends has it all.
"Damian does the most exquisite job in those scenes," says Pearce. "I didn't see any of those scenes getting filmed, so I'm getting to watch this whole show I was not aware of, you know? And the way Damian responds to a knife in the heart in those scenes is very different to Philby. But vulnerability is probably a common theme."
Lewis agrees. The pair agree a lot. "Between Philby and Elliott they're raking over the coals of three decades of friendship. Elliott is grasping with the enormity of having been betrayed for 30 years by his best pal," he says. "And while there is anger directed at the betrayer, there's a lot of guilt and shame and self-doubt in the betrayed. I think that's true of betrayal in any walk of life. You ask yourself questions. It's a human instinct to somehow blame yourself."
And with Mrs Taylor? Well, here's where the old school tie network gets a glimpse at the future (although, let's face it, that future is taking a while to materialise).
"Lily is a fictional character, but what she does brilliantly is show that maybe it's the end of the era of the white male dinosaur and it's time for extinction," says Lewis. "It's time for the meteor to hit the planet – the meteor of the young, northern working-class girl who will show herself to be more capable and less entrenched in all these old-world ideas of loyalty that meant Philby could get away with those things for 30 years."
Read the rest of the original article at Big Issue Magazine
View first look photos in our Gallery here