Panel Discussion
by Gingersnap | damian-lewis.com | November 29, 2022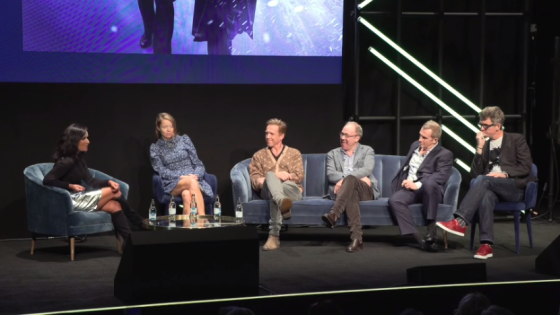 Panel L-R: Anna Maxwell Martin, Damian Lewis, Ben Macintyre, Patrick Spence, Nick Murphy
Damian debuted his new six part series A Spy Among Friends at ITVX Showcase event on Tuesday, November 15, 2022 during a Q&A panel discussion. Joining him was actor Anna Maxwell Martin,  author Ben Macintyre, director Nick Murphy and Patrick Spence. Damian told the moderator,
"We just wanted to get in behind the curtain of what an intimate betrayal between two friends [looks like]. It starts very much, and returns to, this friendship. I don't want to give the end away, but there was a famous 4-day interview set in Beirut, an interrogation, which is the centerpiece of our drama that we come in and out of in a brilliantly orchestrated sort of time jumping way by Alex Cary who adapted Ben's brilliant book. And that 4-day interrogation is the emotional heart of the show."
Watch the full-length 12-minute video here. View images from the event here.
Continue reading Q&A of A Spy Among Friends at ITVX Showcase Event