Spies Like Us
by Richard Godwin and Caroline Frost | Radio Times | November 22, 2022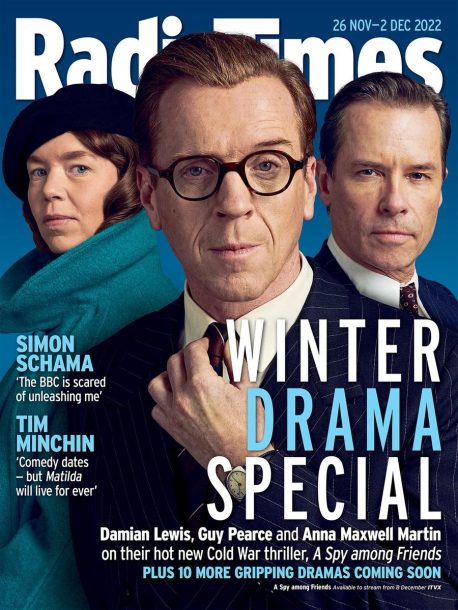 Damian Lewis and Guy Pearce are among the most acclaimed actors of their generation. Lewis has transformed himself into a tortured US soldier in Homeland, a volatile Henry VIII in Wolf Hall, an obnoxious hedge-fund manager in Billions – and any number of Shakespearean roles. Pearce sprang from the Australian soap Neighbours into a wide-ranging career, with roles including a drag queen, action heroes and a lovelorn English King.
But neither man has anything on Kim Philby, the British intelligence officer unmasked as a Soviet double-agent as part of the Cambridge Spy Ring, which included Guy Burgess, Donald Maclean and Anthony Blunt, and whose web of deception has been a subject of endless fascination since his exposure in 1962. Lewis sees Philby's treachery as "part of British folklore."
First look photos here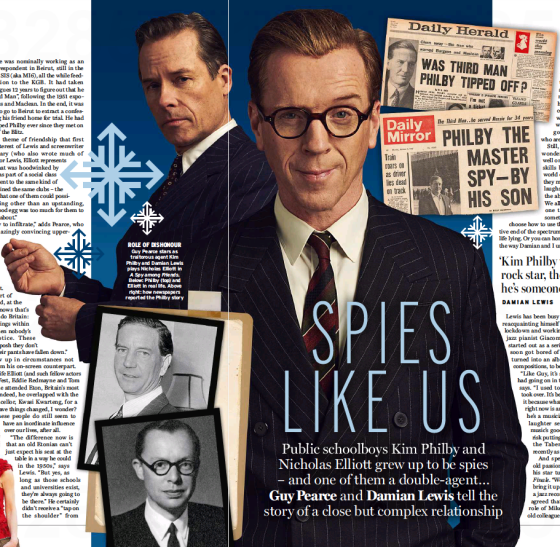 "I mean, Philby was a rock star," he says. "He's someone we hate, in that he was a murderous traitor responsible for the deaths of thousands of people in the end. But we are sort of in awe of him and how he managed to get away with it for as long, fooling the entire establishment."
The story has inspired countless books, series and films, including John le Carre's Tinker Tailor Soldier Spy. And it will fascinate audiences once more thanks to A Spy Among Friends, a stylish adaptation co-produced by Lewis, of Ben Macintyre's 2015 non-fiction book that will premiere on ITV's new streaming service ITVX on 8 December.
But do we really need another take on this well-worn tale? Lewis and Pearce think so. "This one is a personal story, for a change," says Pearce, alluding to the tragic bromance between his character, Philby, and his Secret Intelligence Service colleague, Nicholas Elliott (played by Lewis), which forms the heart of the drama.
The three of us are talking over Zoom: Lewis is in his light-filled front room in north London, Pearce in a rented home in New Zealand, where he's filming the historical action film, The Convert. Lewis has been through an incredibly difficult couple of years with the death of his wife, actor Helen McCrory, in April 2021, but he appears in good spirits today and clearly enjoys reconnecting with Pearce. Their chemistry is equally strong on screen.
A Spy Among Friends is a high-class treat: tightly scripted, moodily shot, with absorbing performances from both leading men. Pearce plays Philby in the last days before his defection, when he was nominally working as an Observer correspondent in Beirut, still in the employ of the SIS (aka MI6), all the while feeding information to the KGB. It had taken Philby's colleagues 12 years to figure out that he was the "Third Man," following the 1951 exposure of Burgess and Maclean. In the end, it was Elliott's task to go to Beirut to extract a confession and bring his friend home for trial. He had hero-worshipped Philby ever since they met on the first day of the Blitz.
It was this theme of friendship that first snared the interest of Lewis and screenwriter Alexander Cary (who also wrote much of Homeland). For Lewis, Elliott represents the British that was hoodwinked by Philby: "He was part of a social class of guys who went to the same kind of school and joined the same clubs – the very thought that one of them could possibly be anything other than an upstanding, honourable good egg was too much for them to bear thinking about."
"It's so easy to infiltrate," add Pearce, who makes an amazingly convincing upper-middle-class Englishman for a person who spent their teenage years on Melbourne's Ramsay Street. "Philby is part of that world and, at the same time, knowns that's the way to undo Britain: pull a few strings within that world, then nobody's going to notice. These people are so posh they don't even notice their pants have fallen down."
Lewis grew up in circumstances not dissimilar from his on-screen counterpart. Like the real-life Elliott (and such fellow actors as Dominic West, Eddie Redmayne and Tom Hiddleston) he attended Eton, Britain's most elite school. Indeed, he overlapped with the former chancellor, Kwasi Kwarteng, for a few years. Have things changed, I wonder? These people do still seem to have an inordinate influence over our lives, after all.
"The difference now is that an old Etonian can't just expect his seat at the table in a way he could in the 1950's," says Lewis. "But yes, as long as those schools and universities exist, they're always going to be there." He certainly didn't receive a "tap on the shoulder" from MI6 recruiters. "I think they had one look at me and thought that man is not a spy, don't go near him!" he laughs. "A couple of friends who were close had brushes with it and I've probably got one or two friends who are, but I'll never know."
Still, an actor might begin to wonder. Spy stories work so well on screen – could acting skills be transferrable to the world of espionage? "I'm sure they must be to some degree," laughs Pearce. "We all have the ability to act as humans. We all love the ability to say one thing when we mean something else, and we all choose how to use that. On the most negative end of the spectrum, you could spend your life lying. Or you can hone it as a craft and use it the way Damian and I use it, as an art form."
Lewis has been busy with another of these, reacquainting himself with his guitar during lockdown and working on some songs with jazz pianist Giacomo Smith. The project started out as a series of covers – "but we soon got bored of that" – and has now turned into an album's worth of original compositions, to be released next year.
"Like Guy, it's something I've always had going on in the background," Lewis says. "I used to busk but then acting took over. It's been nice to come back to it because what the world really needs right now is another actor who thinks he's a musician, ha ha!" He lets the laughter settle. "But I think the music's good, otherwise I wouldn't risk putting it out." He had a gig at the Tabernacle in London as recently as 20 November.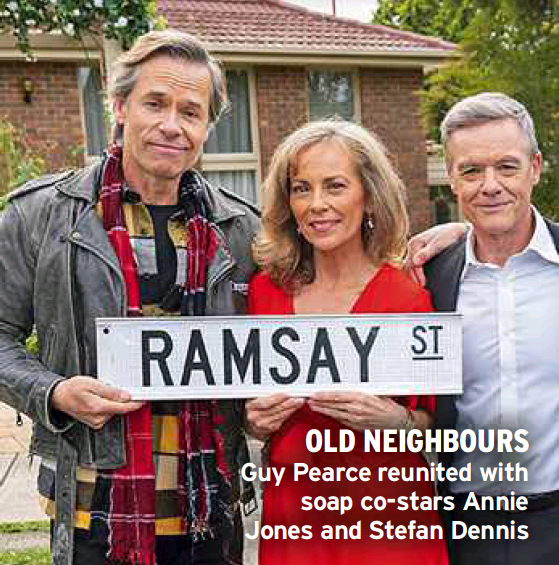 And speaking of returning to old passions, Pearce is fresh from his star turn in Neighbours: the Finale. "Wow!" he blushes when I bring it up. "In the same breath as a jazz record…" It was universally agreed that Pearce, reprising his role of Mike (1986-89), acted his old colleagues off the screen in the special episodes that marked the end of the soap's 37-year run. "It was absolutely delightful. I have such a soft spot for that show because of everything it's given me. I think they pretty much asked anyone from the old days to go back constantly. Jason (Donovan) and I kept saying to each other: 'I'll do it if you do it.' And so I said to him: 'I'm going to do it!' And he said: 'Well, I will as well!'"
Kylie Minogue proved equally persuadable. As a bonus, the writers engineered things so that Mike would be revealed as the father of Sam, who was played by Henrietta Graham, an actor with Down's syndrome who is a family friend of Pearce's. "And so it just all fell into place beautifully," he says.
It was a chance to see how far he'd come. At one time, Pearce says, the scrutiny that came with the role nearly overwhelmed him. "I really disliked it in the early days. I fought vehemently to maintain a private life – and I still do want one, but I feel like I'm able to enjoy whatever's out there in the public and not get too uptight about it."
Lewis, for his part, has a policy never to read a word that's written about him. He recalls a conversation with a fellow actor who described compulsively looking up negative comments online. "They said it was like selfharming. It always made them miserable. But they couldn't stop it. My policy is: live your life, be yourself and don't read anything. Why go chasing content about you from people that don't know you?"
"Well, that's right," says Pearce. "You don't want to get caught up in that version of you that other people have created. That unhinges you completely."
INTERROGATOR-IN-CHIEF
Anna Maxwell Martin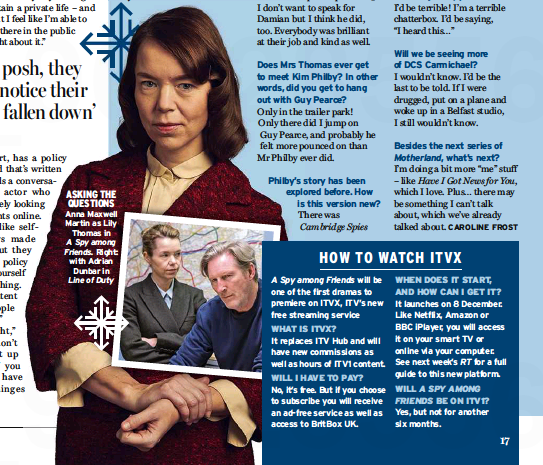 In A Spy Among Friends, you play MI6 officer Mrs Lily Thomas, who interrogates Nick Elliott over his Beirut meeting with Kim Philby – is she a real person?
No, she's a figment of [writer] Alexander Cary's imagination. She's female in that very male establishment, working-class, so we have the juxtaposition between Damian's character, Nick Elliott, and her own. They come to this with prejudices and misconceptions. Their relationship isn't romantic, but it blossoms as a meeting of minds.
With your role of DCS Carmichael in Line of Duty and now this, you've become queen of the inquisition. Is that in  your rider?
I am a good interrogator – my children must be terrified of me! But the truth is, apart from the interrogative aspect, those characters are very different. I loved playing Patricia Carmichael. She was the most passive-aggressive sort of person – what the hell is going on in her home life? I deliberately made her a bit comical and cartoonish, plus Jed [Mercurio, writer] is the master, the king of procedural drama. So it was amazing to be part of it. Lily Thomas is nothing like that. There is no game-playing with her.
Playing Lily meant being a part of one of the most supportive productions I've ever known, something I needed at that time in my life. [The father of Maxwell Martin's children, film director Roger Michell, died in September 2021, 18 months after the couple's separation.] I don't want to speak for Damian but I think he did, too. Everybody was brilliant at their job and kind as well.
Does Mrs Thomas ever get to meet Kim Philby? In other words, did you get to hang out with Guy Pearce?
Only in the trailer park! Only there did I jump on Guy Pearce, and probably he felt more pounced on than Mr Philby ever did.
Philby's story has been explored before. How is this version new?
There was Cambridge Spies [BBC2, 2003] but that was an earlier story. I don't think we've gone into this specific relationship before, and what it meant for Nick Elliott. It's a spy drama, but good drama can't live or die on the fact it's about espionage.
The reason the latest James Bond is so good is because it's so heavily invested in relationships, and this show is [similarly] about Philby and Elliott – their lifelong [platonic] love affair, and the horror of finding out your friend's not who they say they are. Then there's this relationship between Lily and Elliott, how that develops and what that means for both of them.
You're an award-winning actress, but would you make a good spy?
I'd be terrible! I'm a terrible chatterbox. I'd be saying, "I heard this…"
Will we be seeing more of DCS Carmichael? 
I wouldn't know. I'd be the last to be told. If I were drugged, put on a plane and woke up in a Belfast studio, I still wouldn't know.
Besides the next series of Motherland, what's next?
I'm doing a bit more "me" stuff – like Have I Got News For You, which I love. Plus…there may be something I can't talk about, which we've already talked about.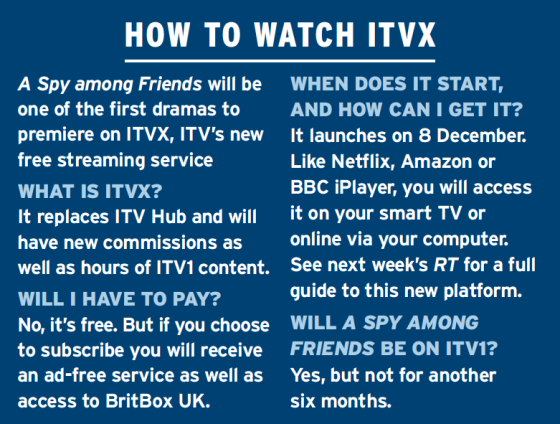 Read the rest of the original article at Radio Times