FeedNHS: Sharing Honor With Helen
by Gingersnap | damian-lewis.com | December 14, 2022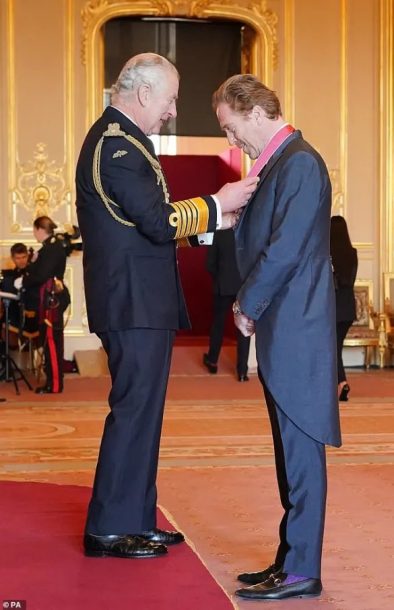 Damian was honored with Commander of the Most Excellent Order of the British Empire (CBE) for services to drama and charity on Wednesday, December 14, 2022 at Windsor Castle, which was bestowed upon him by King Charles III. His daughter Manon and son Gulliver attended their father's ceremony, as well as Helen's parents Iain and Anne. And did you notice Damian wore his purple socks? 🙂
The recognition was previously announced during the Queen's Birthday Honours in anticipation of her Platinum Jubilee in June 2022 and published in the official public record of The Gazette. Damian has quietly carried out philanthropic work for several charities over many years, some of it with the late Helen McCrory. Beginning in 2020, he and Helen helped raise over £1.2 million for the FeedNHS campaign, a coalition charity helping feed NHS staff and frontline workers during the CoVid-19 pandemic, which allowed over 40,000 meals a day to be served to 100 hospitals.
The Royal recognition comes after Damian was awarded an OBE by The Duke of Cambridge Prince William at Buckingham Palace in 2014 for contributions to drama. In addition to CureEB, he is an Ambassador and Patron for a number of organizations, including youth charities Sir HvH Arts Foundation for The McCrory Award and The Prince's Trust.
View more photos in our Gallery here.
An Investiture is the very special day when someone who has been awarded an honour receives their award in person from a Member of the Royal Family. The investee visits a Royal residence with members of their family to receive their insignia.
Around 30 Investitures are held each year, and over sixty recipients attend each ceremony, either in the Throne Room at Buckingham Palace, or in the Grand Reception Room at Windsor Castle. Investitures also happen occasionally at the Palace of Holyroodhouse in Edinburgh, or overseas during State or Royal visits.
Investitures are hosted by The King, The Princess Royal and The Prince of Wales.
The Member of the Royal Family hosting the Investiture, enters the room attended by The Queen's Body Guard of the Yeomen of the Guard. The National Anthem is played, and then the military band or orchestra continues to play a variety of music while the recipients are called forwards one-by-one, usually by the Lord Chamberlain. The Member of the Royal Family places the decoration on the person and congratulates them on their honour. Those who are receiving a knighthood kneel on an Investiture stool to be dubbed.
Source: Royal UK