Review: The Actor and Jazz FM Presenter Turns to Blues and Soul
by Patricia Nicol | The Sunday Times | January 8, 2023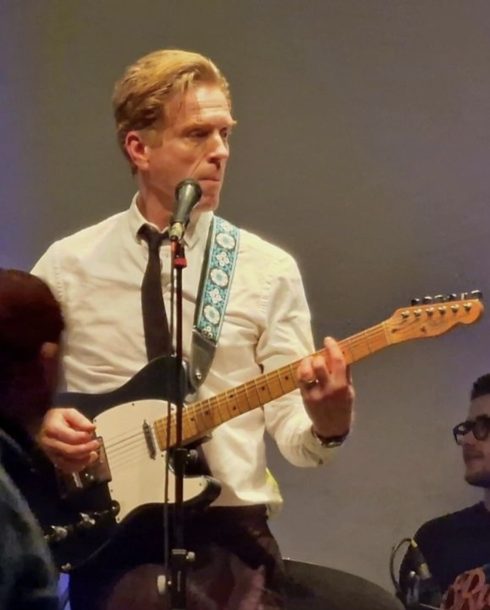 Actor, dad, redhead and ping-pong champion" is how Damian Lewis bills himself on social media. Now he can add jazz presenter to the list. On New Year's Day the star of ITVX's A Spy Among Friends hosted his own show, a mellow two hours of blues, jazz and soul on Jazz FM. Listen on Jazz FM Player here or Spotify here.
Lewis is a consummate leading man. In the past two decades he has treated television viewers to complex, riveting performances in Band of Brothers, The Forsyte Saga, Homeland and, most memorably, in Wolf Hall, where he gave us a high-energy Henry VIII, bouncing between alpha psychopath and needy man-child. On Damian Lewis the supple actor seemed to slip seamlessly into the smooth, somewhat self-regarding character of a jazz presenter.
Hey I hope you enjoy my DJ set from NY's Day on @jazzfm . Loved doing it. Loved finding my inner Tony Blackburn…..Thanks to all you cats at Jazz FM for inviting me. https://t.co/myeWyJqLbY

— Damian Lewis (@lewis_damian) January 9, 2023
Had he been studying John Thomson's Jazz Club sketches on The Fast Show? Lewis's introductory patter was intimate, resonant, but with bluesy breaks and emphasis. "I'm going to be sharing some of my music with you on this first day of 2023 . . . It's got some blues and some heartache, sure," he said of a playlist that included Erykah Badu, Frank Sinatra, Dr John and Artie Shaw.
"This is a time to reflect; a time to remember those we love. But it's also a time of hope and a time of renewal. And that puts a spring in my step, so we're going to get down with some tracks to bump and grind to. And there's no better track to start that with than Funkadelic," he said, playing their Can You Get to That, followed by JJ Cale's Call the Doctor. A cover of the latter, it was revealed, will be on his debut album, due this summer (with a few singles releasing in spring).
Lewis's late jazz flowering is also a return to his roots. He learnt classical guitar at school and busked around Europe in his early twenties. In October he admitted to The Guardian that recording a debut album at 51 might be "a mini midlife crisis, but it's not a full-blown midlife crisis". The latter would be understandable: he lost his wife, the brilliant actress Helen McCrory, to cancer two years ago.
Clearly Lewis is immersed in this music. Tracks by Miles Davis and the Dave Brubeck Quartet were introduced as part of the background noise of his childhood home. This was an abundantly enjoyable listen, the playlist beautifully judged. I hope Jazz FM invites him back.
Read the rest of the original article at The Sunday Times.