A Talky Espionage Caper
by Manuel Betancourt | AV Club | March 8, 2023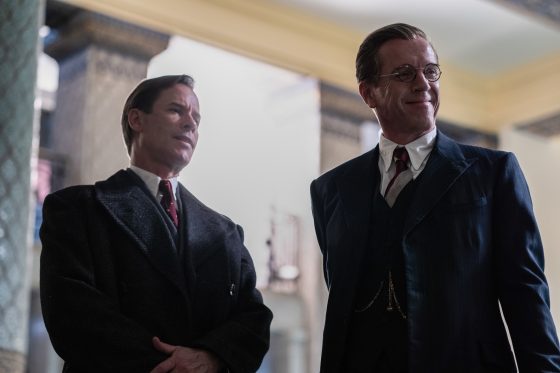 The title for A Spy Among Friends, last year's British thriller that makes its MGM+ premiere on March 12, intentionally flirts with the glaring tension its narrative rests on. The spy genre, after all, depends on a timeless mantra—"trust no one"—that seems to stand in clear contradistinction to what one expects from one's friendships. Writer Alex Cary and director Nick Murphy have taken Ben Macintyre's nonfiction book, an account of a famed British espionage Cold War disaster, and punched it up to ask whether it can be possible to not only be but survive being, yes, "a spy among friends."
One would imagine the answer to be self-evident. Could anyone in the intelligence community, after all, truly put friendship above idealism, above national loyalty, above politics? And yet with every passing episode, this elegantly mounted period drama does keep you guessing as to whether the friendship at the heart of this narrative could well prove to be the exception to the rule.
The year is 1963, and MI6 intelligence officer Nicholas Elliot (Homeland and Billions star Damian Lewis) has just learned that one of his closest friends, Kim Philby (Mare Of Easttown's Guy Pearce), has defected to the Soviet Union. The move came after the two had met in Beirut, where Elliot had been tasked with briefing Philby after it was clear he'd been working for the KGB for decades. Their seemingly private meeting in an empty Beirut apartment is the centerpiece of A Spy Among Friends, only offered in bits and pieces to the audience throughout the show's six-episode run. Even though the friend reunion was carefully wired and recorded, it's clear to all involved (MI5, MI6, England's secret intelligence community, the CIA, the KGB even) that more was said and exchanged than what can be gleaned from the recorded and transcribed tapes. This was a decades-long friendship; surely Elliot must have struggled with confronting Philby. He may have actually let his sentimental affection for his friend get the better of him and allowed him to escape.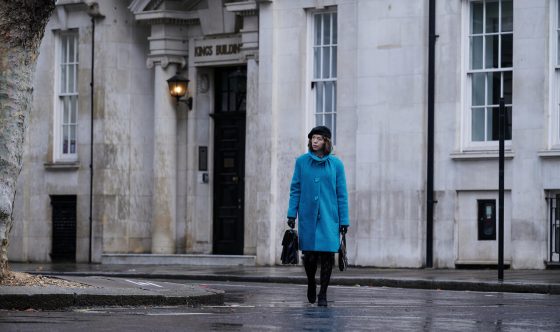 Enter Lily Thomas (a spellbinding Anna Maxwell Martin), a no-nonsense debriefer who gets assigned the job of grilling the affable Elliot over what actually took place in Beirut—and, in turn, what he may have done to cover (up) for his friend. And so A Spy Among Friends begins: with a meeting between two intelligence officers about what happened in that other meeting between two intelligence officers.
Lewis, here clearly meta-winking at us playing yet another mercurial fellow whose allegiances are hard to parse, has, along with his fellow co-stars, the hard task of anchoring a character whose charm feels like both armor and sword. Is he suave when being interviewed by Ms. Thomas because he's trying to disarm her? Is his friendly banter with Philby in Beirut all smoke and mirrors for some parallel conversation the two are having? Has he been played or is he playing a longer (bigger) game? Might he trust Ms. Thomas more than he did Philby?
Shuttling between the present (wherein Elliot and the British intelligence community try to make sense of what exactly Philby accomplished during his years as a double agent) and the past (where we watch the two men rung up the ranks together as good ol' chums), A Spy Among Friends feels like a throwback Cold War thriller. It's also one that's a tad stuffy, a study on how boys' clubs helped and hindered intelligence operations in the postwar era—a world Ms. Thomas disrupts just by her very presence.
Expectedly, the investigation into what happened in Beirut gets more complicated by the day: "Who knew what and when?" becomes an increasingly hard question to answer for anyone involved—especially once CIA agents and retired intelligence officers (and lovers and disgraced defectors) begin coming out of the woodwork. Who can Elliot and Ms. Thomas truly trust, especially if they seem to be rightfully wary and weary of one another? We may be dealing with prickly geopolitical spheres but the series dramatizes the way such stakes always depended on personal relationships. "You're a spy," Philby is told in the USSR, "someone who befriends and betrays, seduces and infects"—a line that accurately conflates his ability to exploit and nurture his friendships in equal measure. Trust, arguably the only currency worth anything in such a world, is what led him to get people like Elliot to look the other way.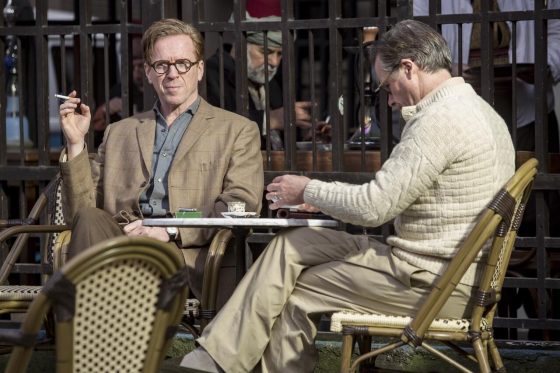 What's intriguing about Cary's adaptation is the way it rests almost exclusively on these types of interactions. This is a talky espionage caper. It's no surprise it's fictionalizing a real-life scandal; there may be an actual Ian Fleming cameo but this is no James Bond story. Here, espionage is grunt work, boring and meticulous—more about the relationships you nurture and the cryptic language you operate within than about high-speed chases or glamorous cocktail parties. (Actual interactions and possible revelations hinge on Ezra Pound poems and Vermeer paintings.)
This series is more Tinker Tailor Soldier Spy than The Spy Who Loved Me, with a stellar ensemble that makes even the most seemingly drab and dry scenes (two people in a room talking) feel like high-stakes drama with spidery diplomatic repercussions. Sure, its plotting is intentionally circuitous, with every new episode making the case for it as a slow-burn of a series. It rewards a patient and attentive viewer, an audience invested in the minutiae of friendships pushed to the brink, with newer revelations constantly forcing you to wonder anew whether anyone's intentions and motivations can really be known, let alone trusted.
Read the rest of the original article at AV Club