Islington Here We Come!
by Gingersnap | damian-lewis.com | April 12, 2023
Just after the release of his debut album Mission Creep on June 16, 2023 and on the heels of playing Black Deer Festival and Rough Trade East, Damian Lewis will return to the stage for a show at Union Chapel Islington in London on Tuesday, July 11, 2023. Doors open at 7:00 p.m. The venue has unreserved seating and are taken on a first-come, first-serve basis. Please arrive early before event door times if you have preferred seats. Tickets go on sale Friday, April 21 at 10:00 a.m. BST from Union Chapel here or from Alt Tickets here or Stereo Board here.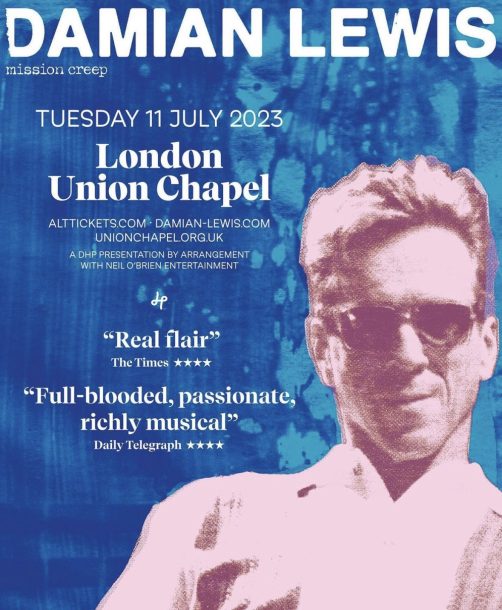 You can even book for a pre-show dinner at their Margins Cafe with a general admission ticket to gain entry. Union Chapel is a 19th century Gothic revival styled church and live entertainment venue located in the London borough of Islington at 19b Compton Terrace. The acoustics and stained glass window setting will make for a magical evening!
Venue: Union Chapel
Damian Lewis Music Store (UK) here
Damian Lewis Music Store (US) here
Apple Music, iTunes, Spotify, YouTube, Amazon and more here