Extinction Annihilation
by Gingersnap | damian-lewis.com | May 20, 2023
Photo Cred: Sean Pertwee
It looks as though Damian attended the Jake Chapman art exhibit titled Extinction Annihilation at 'Tennis Elbow at The Journal Gallery' in New York on opening night, Thursday, May 19, 2023.  Damian is pictured here with fellow actor Sean Pertwee, best known for his portrayal as Alfred Pennyworth in the television series Gotham. British artist Chapman's solo show was curated by Sozita Goudouna for Greece under the Greek Ministry of Culture – the mission being to promote contemporary Greek and Cypriot art in the US. His show runs through June 6, 2023. For more information visit Tennis Elbow at The Journal Gallery and Jake Chapman Studio. View more images in our Gallery here.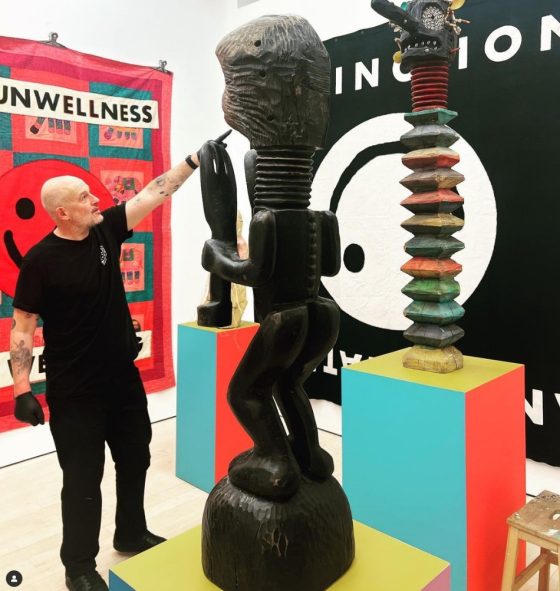 Artist Jake Chapman at Extinction Annihilation Exhibit, NYC
In addition, Damian and Alison attended the Avedon 100 show on West 21st Street in New York. The landmark exhibition runs from May 4 – July 7, 2023 in celebration of the centenary of Richard Avedon's birth. The collection of Avedon photographs was selected by more than 150 people—including prominent artists, designers, musicians, writers, curators, and fashion world representatives—who elaborate on the impact of the photographer's work today.
Damian especially enjoyed this photo of Tina Turner. Avedon's dynamic 1971 portrait of Tina Turner is printed at a monumental scale and was selected for the exhibition by Tonne Goodman. In many cases the link between a photograph and its selector enhances the work's already powerful impact.
Avedon 100 documents Avedon's enduring influence on photography and profound global impression on visual culture. In an installation designed by Stefan Beckman, the exhibition represents six decades of his oeuvre, including the In the American West series and images of the social justice movement, as well as classic portraiture, advertising, and fashion work. It features both iconic and rare photographs, among them several of Avedon's larger-than-life-size mural prints, as well as exhibition prints created for his 1978 retrospective at the Metropolitan Museum of Art, New York. The photographs are displayed in loosely chronological sequence, with special attention paid to visual cadence, together showing how the artist dissolved the lines between photographic genres and cemented the medium's status as a contemporary art form. In an increasingly digital world, his work is also testament to the artistry of film photography.