London Calling: A Centenary Celebration
by Gingersnap | damian-lewis.com | October 5, 2023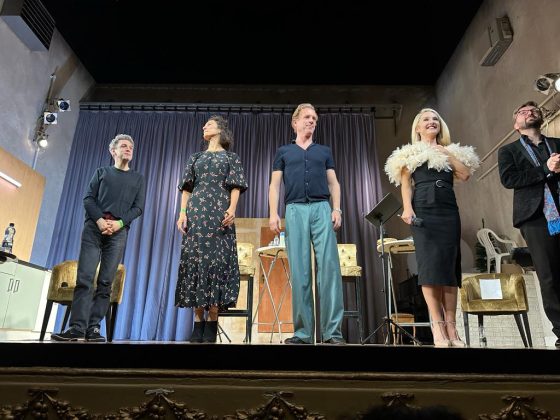 Damian Lewis and Indira Varma led Noël Coward's 'London Calling!' at the Duke of York's theatre in the West End on Thursday, October 5, 2023 in honor of 100 years of the musical revue that catapulted Noël Coward and Gertrude Lawrence to stardom. To celebrate the centenary of Coward's first publicly performed musical revue, this special performance was staged at the same theatre, with actors Damian Lewis, Indira Varma, Oliver Soden, Lucinda Gosling, Georgi Mottram and Robert Hazle  performing extract sketches from the roles originally created by Coward and Lawrence from the 1923 production.
Damian performed Recalling London Calling, Rain Before Seven and The Swiss Family Whittlebot, as his 90-year-old father, Mr. Watcyn Lewis, watched as a theatergoer. The name 'Noël Coward' went up in West End lights for the first time when 'London Calling!' opened at the Duke of York's Theatre on 4 September 1923. View more photos from the event in our Gallery.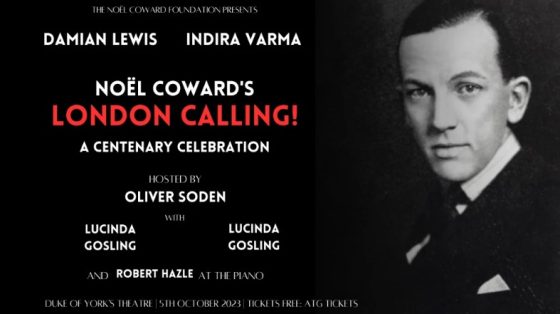 Robert Hazle reconstructed 'Follow A Star', the final number from London Calling!, joined by soprano Georgi Mottram.
This was the first time 'Follow A Star' has been performed since 1923. The music was thought lost until a handwritten draft was recently discovered when cataloguing the private collection of Coward's US representative and close friend, Geoffrey Johnson, who, following his death in 2022, bequeathed his private collection to the Noël Coward Archive Trust.
Part of the Coward 125 celebrations, the event is presented by the Noël Coward Foundation highlighting the outstanding work of the Noël Coward Archive Trust to conserve Coward's archive and maintain his legacy.