The Ultimate Las Vegas Race Weekend Experience
by Gingersnap | damian-lewis.com | November 15, 2023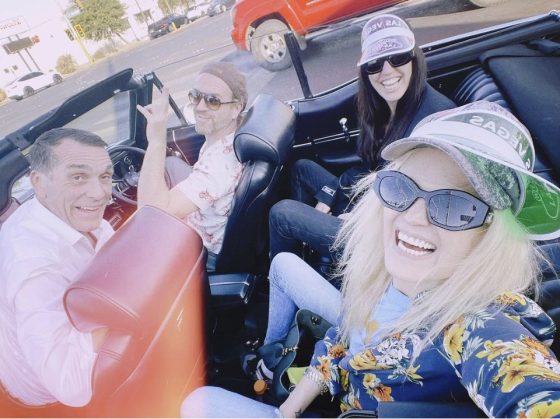 Photo by Alison Mosshart
After more than 40 years away, Formula 1's much anticipated return to Las Vegas took place November 16-18, 2023. VISTA Las Vegas, in association with McLaren Formula 1 Team, was the ultimate Las Vegas Grand Prix weekend party and official venue of the Las Vegas strip circuit. The official McLaren Vista 3-night party venue was at Drai's Nightclub and hosted by Mark Wahlberg, with DJs and live music. Damian was part of the exciting live music line-up, but that's not all. Damian and Alison Mosshart celebrated Alison's birthday with an early birthday weekend among friends in the Sin City. Damian shared on Instagram that he was cheering on the McLaren driver Lando Norris, who placed in 20th position.
Thursday was the initial kick off party. Friday was the sunset sessions qualifying event and Saturday was race day. For more information, including the racing map and detailed schedule, visit Vista Las Vegas website. View more images from the event in our Gallery here.
Overlooking the Las Vegas Strip from the rooftop of The Cromwell, the palatial Drai's Beachclub & Nightclub is the crown jewel of Las Vegas nightlife with unrivalled views and signature full-length live concerts by music's biggest superstars. Created by Victor Drai, this one-of-a-kind multi-level rooftop takes service and dining experience to new heights.
This weekend-long event at the VISTA Terrace will let guests soak up the racing atmosphere with F1 legend appearances and racing team insights. An exclusive entertainment programme with DJs, live music and guest appearances. Fully inclusive food; and bars with free-flowing champagne, signature cocktails and more across the weekend should keep the party moving all weekend long.