New Year's Irresolution
by Sean T. Collins | New York Times | May 26, 2019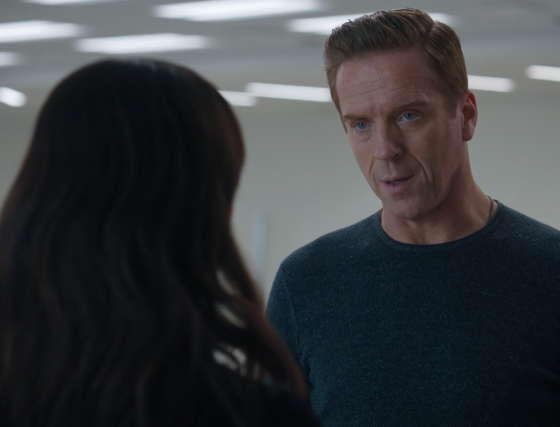 Season 4, Episode 10: 'New Year's Day'
"All is quiet on New Year's Day." Fat chance, Bono.
U2's wintry hit "New Year's Day" may kick off the "Billions" episode it shares a title with, but Bono's opening line certainly doesn't describe it. Directed with verve and humor by Adam Bernstein and written by the series creators Brian Koppelman and David Levien — always a sign that the game is well and truly afoot — "New Year's Day" has the feel of a turning point for the season. Nothing shocking or momentous takes place, but the air is electric.
This, despite taking place on a traditionally low-key holiday. On a day when the rest of the world is nursing hangovers, watching bowl games or simply kicking back and chilling out, these workaholic characters are preparing for the fight of their lives. Or the fight of their year, anyway. (They do a lot of fighting.)
The focus of the episode falls on Wendy, who has become the show's protagonist since Bobby and Chuck declared a cease-fire on her behalf. Her license to practice is on the line because of her unethical handling of Taylor Mason's personal information, and her normally professional facade is being eaten away before her colleagues' eyes.
Taylor sails smoothly through a mock medical-board hearing, augmented by Chuck and Wendy's one-time friend Lonnie Watley (Malachi Weir). But Wendy flunks her practice session royally. Recognizing his wife's dire straits, Chuck suggests a bargain: accept a suspension and probation in exchange for eventual expunction. When he advises her to take the deal instead of make a deal, though, the jig is up.
Continue reading Billions Season 4 Episode 9 Recap: New York Times – May 26, 2019