The True Story of a Welsh Village That Raised a Racehorse
by Vanessa Thorpe | The Guardian/The Observer | May 30, 2021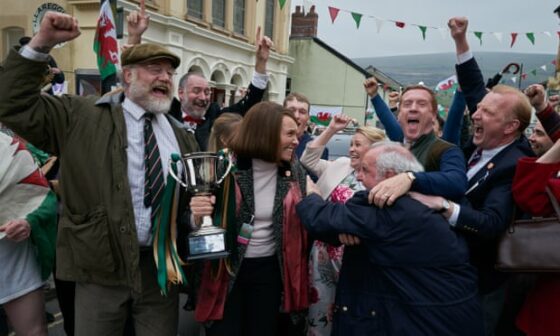 Ever felt stirred by a warm sense of connection to the world around you? Well, the Welsh have a word for that precious sensation: "hwyl", sounding a little like "hoyle" to an English ear. And, as cinema projectors whirr into action again, there is one film above all others that aims to bring you this very emotion.
Out on 4 June, Dream Horse is the true story of the extraordinary racehorse that brought a group of impoverished Welsh owners together and offered them fresh hope against all imaginable odds. And the concept of hwyl, a kind of mystic combination of those two more famous buzz words, the Irish "craic" and the Danish "hygge", is right at the film's core, according to director Euros Lyn.
"Its meaning is described in the film, but actually there are lots of uses. If you are a Welsh speaker, you ask people in the morning how the hwyl is. Or you use it if someone is clearly enjoying few drinks at the bar. It is a sort of "life force", and the characters in Dream Horse are certainly on that kind of adventure. So it's the right word and it is also what we want for our audiences."
Starring Toni Collette, Damian Lewis, Joanna Page and Owen Teale, the film tells of an inexperienced syndicate in the valleys of South Wales who fund the training of a thoroughbred, Dream Alliance, that goes on to beat the best on the race course.
The Dream Alliance story had already been told in an award-winning documentary, Dark Horse, but writer Neil McKay "went back to first base", said Lyn. "Neil did a deep dive and spent a long time with the real people involved. They've all had such varied lives, including Howard Davies, the accountant that Damian plays, we knew we had to leave some of it out."
Lewis, who lost his wife, the acclaimed actress Helen McCrory, to cancer earlier this year, is half Welsh and had been keen to work closer to home after starring in the flashy American hedge-fund drama, Billions, for Sky. "It was perfect timing," the actor has said. "I like its almost naive warmth and generosity of spirit, compared to the Billions world, which is all about transactional favour-trading."
"It was wonderful to have Damian as Howard," said Lyn. "His father is Welsh and he has a brilliant ear anyway."