Damian Lewis Featured in Golf Digest
Wolf Hall meets Shades of Grey
Damian Lewis and Jamie Dornan talk Golf
At the Alfred Dunhill Links Championship in Scotland this past October, we had a chance to talk golf with a couple of actors: Jamie Dornan, who stars in the uber-hyped movie "Fifty Shades of Grey," scheduled for release in February; and Damian Lewis, who starred in the hit TV series "Homeland" and the award-winning World War II miniseries "Band of Brothers." Dornan, 32, is from Holywood in Northern Ireland, the same hometown as world No. 1 Rory McIlroy. Lewis, 43, is from London. Dornan and Lewis played together in the pro-am portion of the Dunhill.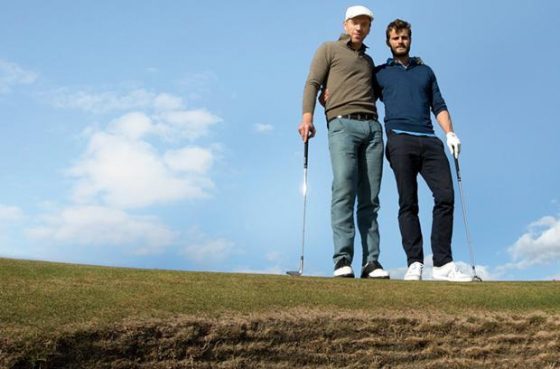 GD: Who were your golf idols growing up?
Lewis: Seve Ballesteros, obviously, was always very exciting to watch when I was a kid. Sir Nick Faldo was winning a lot for us at the time. Sandy Lyle for his 7-iron out of a fairway bunker to win the Masters in '88. I liked a lot of the big players.
Dornan: Darren Clarke was huge for me. He's from where I come from, and a few more boys from that part of the world are flying the flag now like Padraig Harrington, who I played with today, which was an absolute treat.
Continue reading Damian Lewis Featured in Golf Digest – Feb 15, 2015