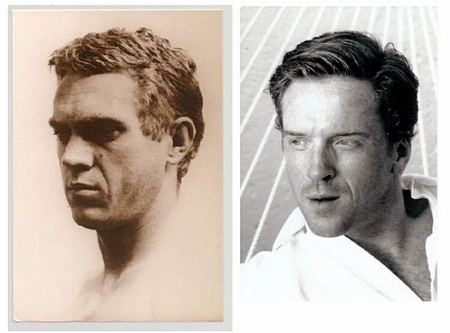 This blogger's comments (below) about Damian's new NBC drama Life has rekindled the debate about a possible resemblance between Steve McQueen and Damian Lewis; what's your opinion?

Whether or not you see a resemblance there's no denying that the above images are of two very attractive and talented men! 😉

Damian Lewis "…stars as a cop who was wrongly sentenced to life in prison for a triple murder. After twelve years he's released, given millions of dollars, and goes about setting his life back in order. One of the things that has me really excited for this show is seeing Damian Lewis smile and get to have fun… I was really blown away by his performance in Band of Brothers…there's some Steve McQueen quality about Damian that I really like. He's cool in a timeless way.

Thanks to Jen for posting news about upcoming Australian broadcasts of Damian Lewis's work including: Much Ado About Nothing, Brides, and An Unfinished Life. Check the Schedule for more information about Damian Lewis performances and contact Selene to share news about Damian events in your region.