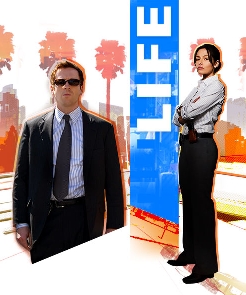 Wonderful news about Life starring Damian Lewis and Sarah Shahi!

» NBC has ordered 9 more episodes of Life so let's hope that the writer's strike is satisfactorily resolved soon and everyone gets back to work! ➡

According to the NBC Press Release "We're thrilled to pick up 'Life,' which is produced by our own studio, for a full season," said Ben Silverman, Co-chairman, NBC Entertainment and Universal Media Studios. "We're so appreciative of the cast, producers and crew for delivering such a high-quality, compelling drama each week and we look forward to many more episodes to come."

Universal Media Studios President Katherine Pope said: "Rand Ravich, Far Shariat and their team have re-invented the cop show genre with 'Life.' With the pitch-perfect Damian Lewis at the center of a brilliant cast, each week this show has quietly built since its premiere into the little engine that could. We have every confidence that this drama will continue to impress audiences and critics with the quality of the acting and the writing."

Click on the links below to read all about it!
l 1 l
2 l
3 l
4 l

» Click here for a new Life fan video on YouTube.

» This blogger offers a Life Survival Guide to help fans deal with the withdrawal symptoms expected when NBC runs of of new Life episodes due to the WGA labor strike.

» Don't forget to vote for Life as the people's choice for the "Best New Television Drama".

Ann has discovered a Hungarian DVD vendor (Filmsarok) who will sell and internationally ship copies of the region 2 DVD for The Baker starring and produced by Damian Lewis. Just send an English language email to Mr. Ivanics to order the DVD for A pék (The Baker). The cost is $20 US including shipping and handling and they will accept PayPal and other payment options.

Filmsarok.hu also sells the region 2 DVD for The Situation starring Damian Lewis. Both DVDs offer original English and Hungarian (Magyar)-dubbed versions of the films. Caution! These are region 2 DVDs so they will only play in multi/region-free or region 2 (UK, EU, MidEast, Egypt, SoAfrica, and Japan) players; click here for more information about DVD regions and players.